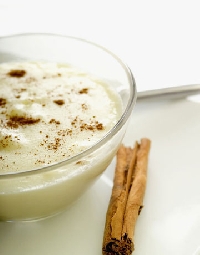 These rice pudding recipes will make the perfect end to any family meal
If your family loves rice pudding, they will really enjoy these slight variations of the original. With so many ways to cook, serve, and spice up your homemade rice pudding, you will be able to turn anyone into a believer, even if they claim that they don't like rice pudding. So get out your baking supplies and get creative.
Stove Top Rice Pudding
Ingredients:
1.5 cups cooked rice
2 cups milk divided
1/3 cup sugar
2/3 cup raisins
ª-teaspoon salt
1-tablespoon butter
1 egg beaten
®-teaspoon vanilla extract
Dash nutmeg or cinnamon (optional)
Combine rice, ®-cup milk, sugar and salt in a medium sized saucepan. Cook over medium heat, stirring occasionally until creamy and thick (usually about 15-20 minutes). Blend remaining ®-cup milk and egg and stir into rice mixture. Add raisins and cook two minutes longer, stirring occasionally. Add butter and vanilla and spoon into serving dishes. Sprinkle with nutmeg or cinnamon if desired.
Creamy Rice Pudding
Ingredients:
2 ® cups whole milk
1/3 cup long or short grain white rice
1/8 teaspoon salt
ª cup granulated white sugar
1-teaspoon pure vanilla extract
ª-teaspoon ground cinnamon
ª-cup raisins
Lightly sweetened whipped cream
Recipe:
In a medium saucepan, combine the milk, rice and salt. Cook on high heat to bring to a boil. Reduce the heat to medium-low and simmer until the rice is tender. (Stir the milk mixture frequently to prevent the rice from sticking to the bottom). When tender, remove from heat and add the sugar, vanilla extract and ground cinnamon. Return to heat and cook until rice pudding thickens, usually 5-10 minutes. Remove from heat and add raisins. Spoon the pudding into bowls and cover with plastic wrap. Refrigerate for one to two hours, garnish with whipped cream and serve.
~
Baked Rice Pudding
One of the simplest rice pudding recipes, this one will be sure to please.
Ingredients:
1 cup boiled rice
3 cups milk
? cup of sugar
1-tablespoon cornstarch
2 eggs
Preparation:
Dissolve the cornstarch with a little milk and then stir in the rest of the milk. Beat the yolks of the eggs and ®-cup sugar together and then add to the cornstarch mixture. Heat on medium until hot and then add the rice. Stir carefully until it thickens then remove from heat. Place in an oven safe dish and place in the oven.
Beat the egg whites until stiff and add remaining sugar.
When the pudding in the oven browns slightly remove and top with the egg white and sugar mixture. Return to the oven until topping browns. Cool and serve.
Apple Rice Pudding
Ingredients:
1 cup of white rice
6 medium sized apples
2 cloves
®-lemon rind
2 teaspoons sugar
Preparation:
Boil the rice for a quarter of an hour in boiling water and strain. Place a cloth into a pudding basin and lay the rice all around it. (The rice will look like a piecrust.) Quarter the apples and lay them in the middle. Add sugar, lemon rind and cloves over the apples. Pull up the sides of the cloth and tie securely.
Boil the pudding for one hour and serve with sweet sauce poured over top.
Caramel Rice Pudding
One of the tastiest rice pudding recipes around, this caramel variety is a sweet treat indeed.
Ingredients:
1/3 cup rice
® teaspoons lemon extract
3 eggs
2 tablespoons vegetable shortening
ª-teaspoon salt
2 cups milk
ª-cup raisins
2 tablespoons powdered sugar
ª cup granulated sugar
Preparation:
Melt granulated sugar in a small saucepan and cook until brown, but do not burn. While hot, pour it into a pudding mold and spread it all around.
Wash rice, drain and cook slowly in milk for thirty minutes.
Add powdered sugar, vegetable shortening, salt, raisins, lemon extract and the well-beaten eggs to a bowl and mix well. Add to rice. Place pudding into the mold atop the browned sugar.
Set mold in pan of boiling water and bake in oven until well set. Serve hot or cold.
Most rice pudding recipes are not only delicious but are also easy to make. Get cooking and enjoy!