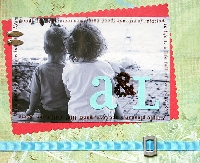 Scrapbook ideas for couples so you never forget the details of life together
Scrapbooks are much more than a collection of photographs. They document a story or significant period that you don?t want to forget. This list of scrapbook ideas for couples is a creative way to record a love story.
At the same time, this project can be a bit overwhelming because there?s so many moments you want to remember. How do you choose what goes in? There?s no reason why you have to. Simply stock up on crafty scrapbook supplies and get started.
Begin with a large book and when you run out of pages, begin the next chapter of your lives with a new book. If you?re composing the book as a joint effort, talk about what moments you want to dedicate extra space to.
Here?s a list of scrapbook ideas for couples to consider.
The beginning
The story of how you met matters. It matters to you and someday it may matter to your children. Write out the story on one of the first pages. Include dialog if you recall things that were said, as well as the setting ? weather, time of day, any music playing.
After recording your first impressions of each other, enhance the written sections. Go back and take pictures of the place or use themed embellishments to help paint the picture.
Firsts
Once you get the beginning of your story down, think about all of the firsts you?ve shared. The firsts dates, first kiss, first time you went away together, all of these events set the foundation for a solid relationship.
~
Anniversaries
Anniversaries deserve some attention. Experiment with these so you can fit a lot of memories in. Tuck a handwritten pull out card behind photographs and use a ticket stub or cutout as the pull tab. If you?re tight on space, blow up one large picture and paste it in on three sides to create a pocket for all of the details.
Engagement
Couples can create an entire scrapbook just for their engagement. These typically have a few pages of key moments, but focus largely on planning for the big day. Making an engagement album during the wedding planning process is a fun outlet to have on stressful days.
Wedding
Wedding albums are among the most popular scrapbook ideas for couples. This is a great way to preserve your memories since the actual day zips by. Instruct your photographer, or have a good friend take pictures of the most important parts, like ?I do?, the first dance and cutting the cake.
Marriage and Family
A marriage scrapbook could include a few pages of your courtship, but would mostly focus on life after ?I do?. This works well if you decide to start a project a few years into the relationship, and only recently caught the scrapbooking bug. Start with your wedding photo and honeymoon, and be sure to leave room for births if you plan to expand the family!
Gift
A romantic scrapbook is a perfect gift for the one you love. Order the book chronologically or theme it around music, sports or another shared interest with unique scrapbook stickers. If you have more material than the pages can handle, make a few collage-style pages and don?t worry about structure.
He Said, She Said
Have him make a few pages, too. It?ll be fun to see which moments he chooses to document and how he does it. You could also choose a day, like your first date, and each scrapbook it in your own way. Attach the pages beside each other so you have a he said, she said book.
Pour your heart onto the pages. Fill in empty margins with doodles of him, lyrics and poems. Who knows? One day this may be something your children flip through with their children.