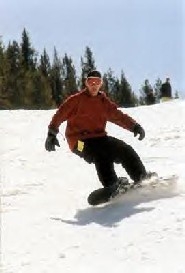 Grab some air at America's best snow boarding resort destinations
The thrill of catching a big wave aboard a fast-flying surfboard can be duplicated all winter long at numerous ski resorts that cater to the avid snow board enthusiast. Most of America's top ski resorts now offer related activities such as dedicated snow boarding areas. They also offer rentals or sales of boards and all sorts of related equipment.
Snow boarding at any of the top ski resorts presents an opportunity to enjoy a plush lifestyle after a long day in the mountains. The fresh air, the chill and the camaraderie of other enthusiasts is a thrill of the first magnitude for high-altitude athletes who love speed?and the voluminous bursts of churning snow that fill the air with a crystal spray resembling diamonds at their most sparkly.
Some resorts that make accommodations for snow board aficionados have full service spas, live music in the ski lodges and bubbling hot tubs in the fitness centers. Many resorts also have a full staff of personnel that specialize in massage, ski lessons and guided tours of the scenic environs.
What does style have to do with snow boarding?
Sports lovers who crave their own equipment will need a board and gear meant for comfort and safety. The basic snow boarding styles are freestyle, freeride and Alpine, or Race style. Freestyle is filled with jumps and aerial tricks. Freeride is more oriented toward sightseeing in high gear as one is cruising downhill. Alpine, or Race style, snow boarding is geared to competitive events requiring speed, agility and concentration. Many top ski resorts make concessions for all styles. Luckily, there usually are designated areas for beginner, intermediate and advanced practitioners of snow boarding.
~
Where do visitors from abroad go to snow board?
Telluride Ski Resort, located in Telluride, Colorado, is world famous for pristine snow?lots of it. The annual average snowfall is more than 300 inches and season passes tempt avid skiers to stay all winter long. There is air service from regional airports. Snow board equipment and all manner of ski equipment are available for rent. The elevation at the summit is more than 13,000 feet at Telluride Ski Resort.
Where can folks from New England go close to home?
The Mount Sunapee Ski Area is located in Newbury, New Hampshire. It is an immense tract that lies an hour or so north of Boston, Massachusetts. Nearly 50 snow guns operated from towers maintain an ideal surface at Mount Sunapee. Snow boarding aficionados will feel right at home and appreciate the weekly specials and discounts that abound. Info: Mount Sunapee Ski Area.
Where can one find four mountains within one resort?
Aspen in Colorado is world famous for being a primo snow boarding getaway. Nestled among the majestic Rocky Mountains are four summits that are challenges for any snowboarding expert. Snowmass, Aspen Mountain, Aspen Highlands and Buttermilk comprise Aspen's ski area. Related sports include skiing, horseback riding, paragliding and more. Info: Aspen Ski Resort.
What if one wants to snowboard in Alaska?
Alyeska Ski Resort in Alaska offers more than 1,000 acres and has been well publicized by major ski magazines. It is affordable for family gatherings, spa amenities and plenty of ski-related activities. It's the site of the U.S. Alpine National Championships. The snow is well groomed at all times and there are suitable terrains for snow board fans of all skill levels. In addition, scenic tours of majestic Alaska are easy to arrange. Info: Alyeska Ski Resort.
Where can families with youngsters go?
Smugglers' Notch in Vermont is a place to consider if you're looking for a family friendly environment. It's nestled amid the Green Mountains. More than 1,000 acres ensure there are appropriate terrains for beginners, intermediate-level and highly accomplished practitioners of snow boarding. A child-care center and a teen center are well staffed. In addition, adaptive programs facilitated by qualified and compassionate experts are available for individuals with special needs. Everyone can get out on the slopes to have fun. Info: Smugglers' Notch Skiing.