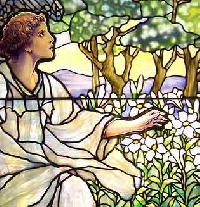 Stained glass classes start you on your way to creating a masterpiece
Stained glass as a material is glass which has metallic salts added into it during its manufacture.  Despite this very basic description of the material, the term stained glass evokes within us something much more than an image of "metallic salts." Stained glass classes can get you beyond the definition of the art, to working on your very own masterpiece of metallic salts.
Throughout the ages stained glass windows have been pictorial stories captured together.  When entering a building with stained glass windows, one can follow the images to relive a tale without words–a story which has stood the test of time by using the simple form of pictures to tell its tale.
Stained glass is not intended to be a real window to the outside world.  Perhaps a better way to think of this art work is as an illuminated painting rather than a window. 
Why not enter this tradition of illuminated art work to enhance and decorate your own home? 
Creating beautiful works of art yourself will not only give you a beautiful living space, but also a great sense of pride in creating them yourself.
Getting started with stained glass classes is rather simple.
~

Find your nearest instructor:
The Internet is a great resource for locating art instructors.  You may already have a business locally which caters to stained glass art work.  Your local phone book is also a good resource for finding craft stores.
Local universities or high schools may also offer night classes for this type of art work.  These are intended specifically for people who aren't attending the school, so you'll only be expected to pay a small fee to cover material costs at the beginning of the class. 
Taking a night class from a university or a high school can be a good financial choice as these classes tend to run cheaper than professional art studios.

Get some instructional videos:
If you'd like to do some extra work on the side, there are plenty of instructional videos dedicated to teaching the art of stained glass. 
There are also online classes you could look into. 
If you'd like to purchase your own materials, these sites also sell stained glass supplies to get you started.  Included in these are simple designs for possible stained glass projects.  All the materials you could possibly want to get yourself started in stained glass making can be easily found online.
Create your own personal illuminated paintings to decorate your home and impress your family and friends.  Getting involved in art projects can be both relaxing and rewarding.  A perfect way to forget about the stresses of your work life and slide into something much simpler.