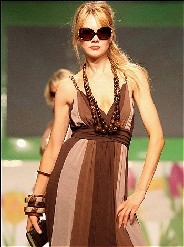 Fashion trends for summer 2009 are flirty, colorful, and sexy
It may still look like winter outside, but retailers and designers alike are getting ready for the upcoming spring and summer fashion season. In fact, there?s nothing like looking at and talking about summer fashions to keep your mind off the blizzard outside. So, what?s on the horizon for this year?s summer fashions?
Decorate your undergarments
One of the biggest fashion trends right now, no matter the season, is decorating your lingerie and undies with jewelry bra straps. These designer straps, decorated with jewels or beads to bring some bling, are just the thing to spice up your bra collection. Clear straps are also practical for wearing with those strapless and off-the-shoulder fashions.
Colors
The color palette for spring and summer fashions is always different than what we see during the fall and winter seasons. This summer, think nude. All flesh tones are in fashion for the summer, including sand, champagne, and skin.
On the other end of the vibrancy spectrum are the tropical colors. No muted pastels this year, think orange and ocean blue and flamingo pink ? the colors of the islands. Deep sea green and cerulean blues will be making huge waves this summer.
Another trend for summer 2009 is metallic fabrics in black, gold, silver, and gunmetal grey. The runway saw many dresses with metallic fabrics that drape across the hips, giving shape to midsection curves.
Asymmetrical
Look for one-shoulder and asymmetrical lines in evening gown designs. The Greek and Roman goddess look is still very chic and current, and the one-shoulder look complements these designs very well.
Eveningwear isn?t the only department to get the one-shoulder treatment, either. Look for one-shoulder bikinis, bathing suits, and tops to make their appearance on the runways and in the department store.
Patterns and design
During the summer 2009 fashion season, expect fabrics decorated with butterfly motifs, or encrusted with jewels. These lush patterns make for a gorgeous fashion statement.
~
Flapper-inspired fringe is another huge trend for the summer. Think short 20s style dresses, with thigh and knee-skimming fringe.
Bare bellies are always the thing for summer, and this summer?s fashions will take the midriff to a new level. Bare navels and hipbones will be eye-catching in low-slung pants and skirts.
Summer fashions provide the perfect opportunity to be flirty and feminine and casual, while at the same time helping you to stay cool in those higher temperatures.