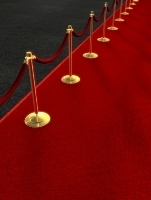 Who are the richest celebrities – and how much do they make?
Each year, Forbes Magazine compiles a list of the richest celebrities – and the most powerful. Many of the richest celebrities on the top 20 list are household names and make regular appearances on our TV sets, on movie screens and in celebrity magazines like People and Entertainment Weekly. Who are these financially blessed individuals?
Oprah Winfrey. Oprah may be the queen of talk television, but there is much more to this woman than her daily talk show. Her estimated worth is $1.5 billion; her take-home pay in 2006 was $260 million. Her income stems from a variety of sources, including her talk show, magazine, and partial ownership of the Dr. Phil and Rachael Ray talk shows. Her upcoming reality show, "The Big Give," will certainly add to her bottom line.
Steven Spielberg. OK, so he may not personally appear on our screens, but he is a powerful force behind many of the movies we watch and love. He earned around $110 million in 2006, and the upcoming "Indiana Jones" sequel will bring in more cash this year. It's also rumored that another episode in the "Jurassic Park" saga is in the works.
Tiger Woods. Tiger Woods has the distinction of being the first athlete to make $100 million in a single year, 2006. Woods' earnings don't all come from golf, either. He's got several lucrative endorsement deals with companies like Gillette and Nike.
Johnny Depp. Whether he's playing Captain Jack Sparrow or the title character in "Sweeney Todd," Johnny Depp's name on the credits of a film is as good as money in the bank. And Depp is taking home a good chunk of that money himself, with his estimated pay in 2006 being $92 million.
Jay-Z. Jay-Z is more than just the man in Beyonce's life. He's a hip-hop artist in his own right who owns a stake in the New Jersey Nets. Jay-Z recently sold his designer clothing line for an estimated $204 million. His take-home pay in 2006? $83 million.~
Tom Hanks. Make fun of his hairdo in "The Da Vinci Code" all you want, but Tom Hanks made about $74 million in 2006. His earnings not only come from blockbuster movies, but also from Playtone Productions, a company he runs with his wife Rita Wilson. The company is behind the HBO polygamy hit "Big Love." Now that the writers' strike has ended, expect to see Hanks in the "Da Vinci Code" prequel, "Angels and Demons."
Madonna. She is a material girl, living in a material world. Her "Confessions" tour in 2006 grossed $194 million, which makes her the biggest female touring artist of all time. In addition to her music, she's got a clothing line and has written several children's books. She took home a cool $72 million in '06.
Jerry Seinfeld. "Seinfeld" may have had its season finale years ago, but it's still running in syndication. If you have a decent cable or satellite package, I think you can find an episode running on at least one channel at any time, day or night. It's obviously still bringing in the cash, since he took home around $60 million in 2006.
Elton John. 2006 was good to Elton John, who brought home around $53 million. He's got a Las Vegas show, still tours worldwide, and his compositions can be heard in the Broadway hits "Billy Elliot," "Aida" and "The Lion King."
Celine Dion. The Canadian songbird with the golden voice may have closed out her Vegas show, but not before it netted her some nice cash. Her estimated earnings in 2006 came in around $45 million. Her new CD, "Taking Chances," is doing well, too.