When you buy something using the retail links in our posts, we may earn a small commission. Catalogs.com does not accept money for editorial reviews. Read more about our policy
here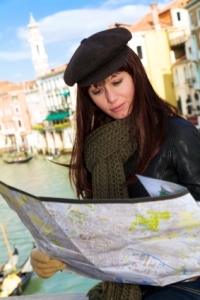 Be adventurous and take a solo vacation.
Traveling solo can be some of the most fantastic, exciting, rewarding and inspiring journeying you will ever do in your life. That being said, it can also be lonely, boring, depressing, and ultimately discourage you from ever picking up that enormous bag and heading out on the road.
It's not what you say, but how you say it
The same proverbial wisdom applies to traveling. The general context of your trip is meaningless. Paris can be the most romantic city in the world that urges you to write that novel you've been thinking about. Or it can be lots of skinny Frenchmen smoking too much and verbally dumping on our Union. 
These outcomes are only heightened while traveling alone since you bear all the responsibility. You have the map, you have to approach the girls (or guys) and you have to break out your awful foreign accent and spit out phrases from a little book. Here are some solid tips on how to maneuver through distant lands.
A little research helps
First, make sure you do a little research on your trip beforehand. Some people like to fly by the seat of their tattered jeans but being alone and winging it can prove frustrating. Pick up a guide book relevant to your region of choice. 
You might want to rent a car (though I disapprove of renting cars while in the field as they are cumbersome and you don't know the terrain), pick up a temporary cell phone or consult the map last minute. I like "The Rough Guide."  "Lonely Planet" has a bad habit of heightening spots which are in reality quite dull. I once spent three hours trying to find some architecturally famous site in Marseilles, France which "Lonely Planet" heralded. When I arrived there, it was an apartment building. 
Respect will be given right here however to "Lonely Planet" for releasing a guide book to Iraq. Though I don't know how many tips for solo travelers there are when it comes to Baghdad right now. 
A few recommendations
Now you have your itinerary and are ready to engage new cities and people. Unless you are well-heeled, and even if you are, I recommend checking into a respected hostel. These places are always full of solo rebels like yourself who are looking to exchange ideas about traveling and maybe even explore the city with you. 
I have rarely had a bizarre or awkward experience with hostel-goers. Three years ago I met a 28-year-old from Colorado who had quit his job as an investment banker and was at that time biking over as many countries as his wheels could handle. He even gave me some good financial advice. 
~
You just can't lose. If you are a woman, I wouldn't be as impetuous with strangers unless there is a group involved. There are many helpful sites targeted at women solo travelers.
Set a budget for yourself. You can't get sauced on Heinekens every night in Amsterdam if you want to survive on 20 Euros a day. But one of the great things about traveling outside of the U.S. is that many places have great deals. 
If you are strapped, avoid cities where our currency is taking a hit – namely all of Western Europe, England, Scandinavian nations and Japan. You want to get by on five bucks a day? Eastern Asia, Southern Africa and Eastern Europe are your best bets. If you think the Middle East is cheap, think again. Israel is especially pricey. 
Believe it or not, the CIA has helpful tips for solo travelers such as the climate, the currency rate in relation to the dollar and whether or not you will get shot or kidnapped there at this time of year.
Keep an open mind
The final thing I can say is make sure you have an open mind when you are traveling solo. Because you are on your own, many plans don't always work out. Sometimes you won't find that ancient ruin your guide book championed and sometimes your fellow solo buddies from the hostel are completely disinterested in your ideas for the tourist itinerary. 
Go with the flow, every experience is worth something and what you miss will be substituted with something you hadn't planned to see. That's the great thing about traveling; as long as you don't sit in your hotel or hostel bed all day reading Jane Austen novels, you should have a memorable and enjoyable trip.