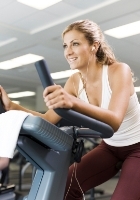 What are the top New Year's resolutions? Find out if yours made the list.
A New Year is upon us, and with it comes the desire to make goals and plans for change in our lives. I make resolutions every year, and sometimes I keep them. Of course, you have a better chance of changing old habits if you make a goal and a plan. One look at this list of the top ten New Year's resolutions will show you how much we, as humans, are alike.
Top ten New Year's resolutions
Lose weight. I don't think this will come as a surprise to anyone, what with the growing obesity problem in the United States. Many people choose the first of the year to begin taking off those extra pounds, whether it's holiday weight or long-time-ago holiday weight. Just watch the commercials on TV; weight loss companies make a huge push for new clients during New Year's.

Exercise. Even if you are at your healthy weight, exercise is still important. It helps relieve stress, makes you sleep better, and keeps you healthy in many ways. So, if you are one of the lucky ones who isn't carrying any extra pounds, you should still be getting regular exercise.

Stop smoking. If you're a smoker, chances are you've tried to quit. What better time than the beginning of a new year to quit for the last time? If you decide that giving up the cigarettes is your New Year's resolution, you're not alone.

Get organized. Wal-mart and Target aren't stupid. They know that many people make a resolution to get organized in the New Year, and that's why they have a huge sale on all of those plastic storage boxes, file folders, and other organizing tools.

Spend more time with family. Let's face it: life gets busy. If you're a working parent, then spending more quality time with the kids is probably high on your list of priorities for the upcoming year. Work, house cleaning and maintenance, shuttling the kids back and forth to various sporting events and music lessons – the number of things taking up our time just keeps growing. The beginning of the year is a good time to take stock of your schedules and carve out some family time.

~

Save money. With the beginning of the year comes tax season, and many people receive refunds. Now is a good time to make a plan to start saving, if you don't already have one in place. With the future of Social Security up in the air, a savings account or investment account may be your best hope for security in the future.

Stick to a budget. It's amazing how quickly those little purchases (Starbucks, anyone?) can add up to a big hole in the budget. One of the best things we ever did was create a budget and stick to it. It has made a huge difference, and has helped us stay out of credit card debt, which can be a financial killer.

Change jobs. When taking stock, one of the things you should look at is your job. Are you happy? What were the reasons you took the job, and do they still exist? If you're not satisfied with your professional situation, the new year is a good time to start looking for something different.

Quit drinking – or drink less. As we get older, we may realize that the social drinking habits of our younger years need to be changed. Drinking to excess can be harmful to your health, not to mention to your relationships. Check out programs like Alcoholics Anonymous (AA) that can get you the help you need to change.

Learn something new. Do you want to go back to school and pursue a degree? Or are you just looking for ways to keep your mind strong and healthy? Learning something new can keep your mind fit and help ward off old age. Learn a language, take an art class, take up a musical instrument. It's never too late to stretch your mind.
There you have it: the top ten New Year's resolutions. Did you spot your own goals on this list? Chances are, you're not the only one.