Unique Christmas recipes
By Catalogs Editorial Staff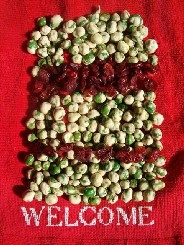 Adaption is the key to making your Christmas recipes unique
Yummy-yum-yum. That's the lip-smacking reaction you'll get from your guests when they take a taste of your unique Christmas recipes?new culinary creations based on traditional, time-tested favorites.
Two things to consider when selecting recipes that lend themselves to adaptation are the colors you will emphasize and the containers in which the foods will be presented. Red and green are holiday colors. White is a good contrast for accents.
Before you continue reading about the Unique Christmas recipes there is a special announcement we would like to share with you. Catalogs.com has negotiated special medicare rates for our vibrant community of seniors. If you are over the age of 60, you can head over to our Seniors Health Section which is full of information about medicare. All you need is your zip code and a few minutes of your time to potentially save 100s of dollars on your medicare bills.
Let your imagination fly when concocting your unique Christmas recipes. A deep glass bowl that permits a clear view of a colorful, layered dish is sure to add eye appeal. Likewise, oven-proof cookware in festive colors looks great and goes from oven to table with no problems. Many interesting free online recipes are available for you to adapt to your own tastes?and color schemes.
Welcome your guests with a shocking appetizer
An entire cooking culture has been built upon contrasting and conflicting flavors?hot and sweet, sweet and sour, sweet and salty, etc. Here is a unique Christmas recipe for a most unusual appetizer?a surprising combo of dried hot wasabi peas (green) and dried sweetened cranberries (red). It's shared here by its originator?a Philadelphia gourmet known to friends and family as Mumzeee.
Mumzeee's Wasabi Peas and Cranberries
? One or two or three bags of dried hot wasabi peas
? One or two or three bags of sweetened dried cranberries
? Dried cherries make a good substitute if preferred
Instructions: Select a beautiful glass container such as a large brandy snifter, a candy dish or a flat tray. Make a layer or border using Wasabi peas?dried green peas coated with hot wasabi mustard? then add a layer or line of the red cranberries. Alternate the green and red colors until container is filled. If using a tray, make a flat design. Adventurous taste-testers will surely disarrange any creation rather quickly but their first impression will be long lasting. And good tasting.
~    
Dare to be different by using unusual serving containers
Here's another idea. Is there a beautiful glass vase in the dining room hutch? Depending on its configuration, it might be perfect for holding some red and green treats?layers of cellophane-wrapped peppermints and spearmint candies. A similar effect can be had by using a short crystal vase that will nicely display tall candy canes of peppermint and spearmint.
Add some color to meat dishes. Roasted meats such as ham, lamb and turkey can be glorified with vitamin-packed red peppers and green peppers saut?ed and presented around the meat on the serving platter. Boiled turnips cut into wheels and used as white accents on the ring around the platter will make a nice contrast to the red and green peppers. But don't forget a colorful dessert.  
A wonderful dessert that looks great served in a deep glass bowl is easy to make and is a perennial favorite at the holiday table. It is a layered dish whose red, green and white components are highlighted with strawberries. It's decadent and delicious: Holiday Trifle.
Holiday Trifle ingredients
? Whipped cream or cool-whipped products
? One white cake mix; add green food coloring to batter
? One white cake mix: add red food coloring to batter
? Optional ripe strawberries, whole or sliced
Instructions: Mix the ingredients for one white cake mix according to directions on the box. Add several dollops of red food coloring to batter in mixing bowl. Baked cake will be red. Mix the other white cake mix as directed but add green food coloring to the batter. Cool both cakes. Get ready to layer ingredients.
In your deep glass serving bowl, put some whipped cream in the bottom. Cut both cakes into 2-inch squares. Layer red cake squares, whipped cream, green cake squares, whipped cream, etc., finishing with a thick layer of whipped cream at the top. Finish by getting creative with the strawberries. There are a couple ways to add a dramatic finish.
Add some optional artistic drama by using either whole berries or sliced berries. To use whole berries, start by selecting those of similar size. Carefully scoop out stem and any leaves attached to stem. In the scooped-out hollow, put a dab of whipped cream. Cover the surface of your dish by sinking berries into the top layer of cream. Or make a ring of strawberries around the border of the glass bowl.
Use sliced berries in a slightly different way: Slice berries horizontally so each berry yields a few perfect wheels of fruit. Pat the slices dry on a paper towel. Use a long-bladed knife or other long, thin utensil such as a chopstick or a kabob skewer to slide the berry wheels down the inside of the glass. Place at random or in rings around the perimeter. This is a dessert that won't last long but will be long remembered.
Popular Savings Offers