Wedding dress trends
By Catalogs Editorial Staff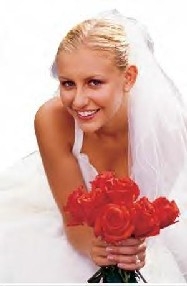 The wedding dress is changing as new trends evolve
Ancient customs from many countries go far toward adding a touch of drama to today?s weddings. An example is found in the root of the word ?wed,? a term that comes from a Greek verb meaning ?to pledge.? A pledge was taken very seriously in those olden days. And everything today?from honeymoon plans to wedding dress trends?reflects a desire to honor one?s mate with a pledge of fidelity. Many other countries contribute their share of lore and customs to the wedding ceremony. Another example springs from Ireland and the ancient Celtic ceremony of hand-fasting?the joining of hands and hearts in marriage. Wedding dress trends that reinforce white as the color of choice go back to the days of Queen Victoria, who wore white as a symbol of her status. The color white thereafter inferred purity. Nevertheless, in other cultures?especially in the Caribbean, China and South America?wedding dress trends support the use of bright colors?reds, yellows and blues?that express the festive nature of wedding ceremonies there. There?s really no wrong way to celebrate a wedding. Food, drink, dancing and the giving of household items, apparel and
gifts of jewelry
or other tokens of esteem are a part of it. A wedding is a highly personal affair. It is an intimate event sometimes shared by hundreds of guests?or thousands of television viewers.
The accent is on details
Today?s weddings range from casual, outdoor affairs to extremely formal events conducted in religious settings. They share in common a sense of sometimes frantic excitement and non-stop hustle-bustle. Time flies and sometimes the couple craves the moment when they finally can collapse upon friends? or family members? gifts of comfy quilts, bed spreads and pillows?beautiful home accessories welcomed by newlyweds.
Before you continue reading about the Wedding dress trends there is a special announcement we would like to share with you. Catalogs.com has negotiated special medicare rates for our vibrant community of seniors. If you are over the age of 60, you can head over to our Seniors Health Section which is full of information about medicare. All you need is your zip code and a few minutes of your time to potentially save 100s of dollars on your medicare bills.
Wedding dress trends include changes in the amount of detail work displayed in many wedding dresses. Lavish lace overlays are popular. Ruffles and smocking are seen in abundance. Prints are in vogue, especially floral prints that are concentrated at the hem of a wedding dress and printed more lightly toward the waist. Florals accent the wedding reception table decorations, too.
Wedding dress trends lean toward sleek
Weddings today frequently sparkle with fashion pizzazz. Modern couples are constantly taking note of changing fashions and the popular colors of the day. Brides, especially, are sensitive to images promoted in fashion magazines, online wedding sites and in television shows or movies. The stars of Hollywood often are the first to wear styles that become wedding dress trends for the rest of the country?or the world.
The trends in bridal wear in recent times have been distilled from all those sources. Sleek is the watchword in many bridal shops. A form-fitting gown that is strapless and clingy will delight the groom, if not the more conservative guests. One must use good judgment to walk the line between looking sensational and looking shocking. Too much bare skin may be offensive, especially if the ceremony is held in a church or other religious setting.
~
Wedding dress fabrics also have changed
The latest in wedding dress trends as seen in fashion magazines and elsewhere show that the days of stiff, starched, immovable fabrics such as crinolines and taffetas are long gone. Today?s runways are loaded with leggy models floating along in bridal clouds of sheer, filmy fabrics such as silk and chiffon.
Sometimes, the fabrics are layered so that a skirt with a white liner is topped with a shimmering topcoat of brightly colored, gauzy material. It?s the clash that is dramatic. Such imaginative touches are what turn wedding dress trends into wedding dress traditions. Included too in recent showings are gowns with plunging v-necks and gowns in natural fabrics such as linen and cotton.
Some fashions are all wet
People get married in some strange and unusual circumstances. A wedding conducted underwater will limit a couple?s choice of apparel to scuba gear, flippers and diving masks. A bride?s veil, dancing in the current, may be the only decorative tribute to traditional wedding dress trends. Likewise, a wedding conducted on the top of a steep mountain surely will call for cold weather gear, rain coats or climbing equipment perhaps decorated with ribbons.
And then, there are the daredevils. There are those who marry while jumping out of a plane. They likely count their parachutes as indispensable fashion accessories. The groom may worry about dropping the ring. But a skydiving bride usually express her choice of wedding dress trends by wearing long, white scarves that will ripple in the wind as she floats into a land of mysterious, uncharted territory?married life.
Popular Savings Offers