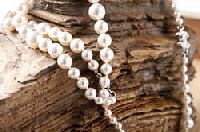 Use accessories to define your personal style
One day it?s in and the next day it?s ? You know the rest. Jewelry, like fashion, changes continually. To help you be on trend, we?ve put together a list of the latest styles seen at fashion shows around the globe. Are you ready? Let?s dive in!
Pearls
Known for its traditional image of being rather staid and stuffy, pearls are hitting the cutting edge of fashion. You?ll find them in the common choker or single-strand stetting. Be on the lookout for long strands of oversized beads, perfect for layering over simple turtlenecks and sweaters. 
Earrings
Solo and asymmetrical earrings are in again. Reminiscent of the 80?s, single earrings are making a huge comeback, as was seen in New York, London and Paris. These pieces take the place of the statement necklace and move it to the ear of your choice. From the magazines, it looks like designers prefer the right ear, but the choice is yours. Also, if you?re going for a simple look, with your hair upswept, go for a classic stud earring paired with a delicate choker or necklace. For an asymmetric look, pair a large hoop or dangling earring with a stud on the other side. Very punk, very now.
~
Chains
Every year the chain is involved in jewelry fashion in one form or another. This year, try to think of all possible variations of the chain theme. Large, chunky links, in silver or gold tones have been spotted, as well as delicate, filigreed pieces. The chain can be found in earrings, necklaces, hair art, bracelets and belts. This is perfect for those of you who have been saving all those chains over the years. Mix and match them for a trendy look.
Stones in the raw
Slices of agate, raw rocks and polished geodes are making their debut. This trend has long been popular with the bohos and greenies, and now it is on point for mainstream fashion. They are available in a huge range of colors and at a multitude of price points. Search the shops and find the right rock to accent your wardrobe.
Fringe, fringe, fringe
Waterfalls of gold or silver toned chain, tousled threads with tiny beads and strips of leather are great options to add some fringe to your accessory closet. Look for bracelets that cascade past the hands and create mystery. Or, go for an arm cuff with fringe hanging from it. You can also find it in necklaces, belts and hair jewelry.
Bracelets as outerwear
Don?t hide your favorite bracelets under long sleeves. Wear them over the sleeves and make a statement with them. Slide a few chunky bangles over your gloves and push them over your sleeves when you get to work. After all, you should share in the beauty of your bracelets, not hide it.
Ear cuffs
Again, it?s a look from the 80?s and into the 90?s. The ear cuff has made its return, albeit in a more dramatic fashion. Large wings in gold cling to the ear as they push back the hair. Other styles hold on across the top of the ear and connect to the lobe with a chain, pendant and stud. Have a wild dragon snake it?s way around the ear, with the tail appearing to go through the ear lobe. Here is your chance to express your personal style.
The talisman
Protect yourself from the evil eye with talisman jewelry. Hamsa hands can be found in all manners of jewelry and pins. Counteract evil intentions and bring yourself good fortune with lucky charms. This is a great way to wear that single earring!
Statement necklaces
Gone are the necklaces of last year, with multiple stones that seemed more like a collar than a necklace. This year?s statement pieces go for a single pendant that speaks for itself. These are large and definite conversation starters. Even better ? you can make your own, easily. Use a longer necklace and add an oversized pin or pendant from a craft store or antique shop. Your pieces will reflect your personality while keeping you fashion forward.
These are just some of the top trends to keep your look up to date. Have favorite pieces that aren?t quite in style now? Consider re-purposing them to become a completely different piece of jewelry. Chances are good that your creations will catch the eye of other fashionistas ? who will want to know where you got such fabulous jewelry.