What is high-tech swimwear?
By Catalogs Editorial Staff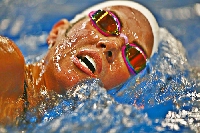 If you are in it to win it, purchase high-tech swimwear.
If you are a casual and infrequent swimmer, you may not require high tech swimwear; however, if you mean business and are a competitive swimmer, high tech swimwear is designed to make you faster and more efficient in the water. The actual fabric technology of competitive high tech swimwear has also been used in the manufacture of figure-controlling water fashions for the general public.
What is high-tech swimwear? High tech swimwear is made of composite fabrics such as nylon and Lycra, which reduce drag while in the water. Drag refers to the forces that are in opposition to you as you move through a fluid, such as the water in a swimming pool. Drag slows down a swimmer. The fabrics – nylon and Lycra – also hug, shape and flatter the body. Slimming swimwear is made with the same high tech fabrics used by the professionals.
This type of swimwear is said to be very much like marine animal skin and, as a result, speed is enhanced. The swimwear also reduces absorption of water, which a regular bathing suit does not. When swimwear gets water logged, that will slow a swimmer down.
Before you continue reading about the What is high-tech swimwear? there is a special announcement we would like to share with you. Catalogs.com has negotiated special medicare rates for our vibrant community of seniors. If you are over the age of 60, you can head over to our Seniors Health Section which is full of information about medicare. All you need is your zip code and a few minutes of your time to potentially save 100s of dollars on your medicare bills.
High tech swimwear comes in various designs such as racerback, bodyskin, kneeskin, competition briefs, aka Speedos, jammers and legskins. For the general public, high tech swimwear is available in styles – like tanks and boy-short bottoms – to maximize the figure controlling benefits.
~
Kneeskin is made of advanced Lycra based material that tightly hugs the body of the swimmer, which increases speed and minimizes water resistance, or drag. The difference between a kneeskin and a full bodyskin bathing suit is that there are no leggings. The kneeskin is comparable to a wetsuit in a shortie style version but it is made of drag reducing material and often has a zippered back.
A bodyskin bathing suit gives full coverage from your neck down to your ankles. Your arms are covered, although sleeveless medal-winning bodyskin swimwear is also available. There is a bodyskin bathing suit that is purposely designed for competitive backstrokers. For many professional swim teams, a bodyskin bathing suit is the "uniform" of choice.
Male competitive swimmers often opt for jammers, which are high tech suits that give the swimmer an advantage swim wise. These suits are made of  Lycra/spandex and nylon and are form fitting. Jammers look a lot like compression shorts or cycling shorts.
Legskins are often worn by male competitive swimmers as the high tech swimsuit of choice. They look very much like tights, covering the entire leg. This type of bathing suit allows more arm flexibility because the chest and arms of the swimmer are not covered. Legskins are particularly effective if the swimmer must make broad arm movements, such as in the butterfly stroke.
A drag suit is a Speedo-style trunk or a square-cut baggy swim trunk that swimmers wear over their inner suit while they train. The drag suit results in more resistance, or drag, in the water and should be worn over and over again to break in the material. The more broken in and torn up the drag suit is, the more resistance is provides, which helps the swimmer train.
There is controversy over the use of high tech swimwear among competitive swimmers, who, of course, are the biggest users of this product. Sport experts are discussing what is high-tech swimwear. Some claim that the suits give an unfair advantage to those who wear them. In fact FINA, which is the top swimming organization in the world, reported that it will ban these bathing suits in 2010. This decision was made after numerous world records were broken at the Rome World Championships. FINA ruled that swimsuits should not extend past the ankles or the shoulders and should not cover the neck of the swimmer.
The backyard pool make be leagues away from Olympic swim lanes, but tummy control swimwear has much in common with professional swim gear. Many of the same manufacturers fabricate for both markets. What is high-tech swimwear? It is a product that has both professional and recreational applications.
A specific high tech swim suit was manufactured by Speedo, called the LZR racer suit, in 2008. This particular bathing suit is made of material that enables maximum oxygen flow to the body of the swimmer and holds the body is an ideal hydrodynamic position. The suit also reduces drag. Ninety-four percent of those wearing this suit at the Beijing Olympics won their races. Some swimmers opt to wear two bathing suits simultaneously because the suits trap air and compress the body, making them faster in the water.
References:
Popular Savings Offers