What makes a great fabric for swimwear
By Catalogs Editorial Staff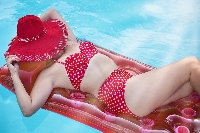 There are several great swimwear fabric options, each with advantages
If you?ve shopped high and low for that perfect swim suit but haven?t found it, what do you do? Settle for what?s available but isn?t really you?
Why not consider making your own suit? Just think of it: the exact style, fit, color, coverage, and comfort you want, and you can let your creative juices flow wherever you wish!
You can find swimwear patterns at any fabric store or online. Whether you want a sleek glamorous one-piece or a fashionable trendy bikini, the choices are endless. Once you?ve chosen your pattern and know how much material you need, the fun really begins. Now you get to choose your swimsuit fabric.
Before you continue reading about the What makes a great fabric for swimwear there is a special announcement we would like to share with you. Catalogs.com has negotiated special medicare rates for our vibrant community of seniors. If you are over the age of 60, you can head over to our Seniors Health Section which is full of information about medicare. All you need is your zip code and a few minutes of your time to potentially save 100s of dollars on your medicare bills.
Naturally swimwear fabric must be stretchy. Ideally it should also be durable, fade-resistant, chlorine-resistant, and able to go from pool to lake to ocean.
~
Polyester
Polyester fabrics blended with spandex (lycra and elastane are two additional words that basically mean the same thing as spandex) are the most popular for swimwear. The polyester to spandex ratio ranges from between 80%:20% to 90%:10%. The higher the spandex percentage, the more stretch the fabric has. The advantages of polyester fabrics include:
Strong resilient fibers
Soft and comfortable fit
Exceptional breathability
4-way stretch (about 60%-70% in all directions)
Hold their shape
Provide UV protection
Durable
Resistant to shrinkage and fading
Resistant to abrasion and pilling
Resistant to chlorine
Launder easily
Quick drying
Polyester PBT
Polyester PBT (polybutylene terephthalate) fabrics are more texturized than polyester alone and are also naturally stretchy. The advantages of polyester PBT fabrics include:
4-way stretch
Resistant to chlorine
Resistant to salt water
Resistant to snags
Lightweight
Matte finish
Repel water
Fast drying
Knits
Most knit swimwear fabrics are a nylon-spandex blend, but some are a cotton-poly-spandex blend that give a completely different look, are somewhat more prone to fading, and won?t dry as quickly. The advantages of nylon knit fabrics include:
Lightweight
4-way stretch
Resistant to fading
Easy to care for
Fast drying
Nylon
Nylon fabrics are an alternative to polyesters, but aren?t as long-lasting or as resistant to chlorine. The advantages of nylon fabrics include:
Lightweight
Smooth fit
Lustrous and soft
Resistant to abrasions
Low moisture absorbency
Launder easily
100% cotton
If you want an all-natural fabric, consider 100% cotton. Cottons are best if you want a swimsuit with a retro look like a two-piece boy-shorts and bandeau top reminiscent of the 40s or a string tie bikini reminiscent of the 70s. Other than a somewhat limited style choice, the only other downside of cotton is that it doesn?t dry as quickly as the synthetic fabrics. The advantages of 100% cotton fabrics include:
Very sturdy
Endless choices for colors, patterns, and prints
Feel really nice and cool on hot summer days
Additional fabric considerations
If you?re considering a print or patterned fabric, be sure to stretch it up, down, and diagonally to see how it will look all over when it?s hugging your body curves.
If you?re considering an embossed fabric or one that has metallic threads in it, be aware that these fabrics are usually only two-way stretch and generally stretch much better in one direction than the other relative to the selvage. Obviously the direction of greatest stretch needs to be the one that goes around your body. Consequently you may need to alter the swimsuit pattern?s cutting layout, buy additional yardage, and/or go up a pattern size so the finished suit will fit and stretch properly.
Speaking of a fabric?s selvages, be sure to look at them closely before determining how much yardage you need to purchase. For most solid-color fabrics, the color extends all the way through the selvages so you can use the full width of the fabric. With prints or patterns, however, this isn?t always so. Depending on the printing technique, there may be several inches of unusable fabric on each selvage.
Swimwear fabrics can have either a matte or shiny finish. If you?ve never made a swimsuit before, a matte fabric is probably best. That?s because shinier fabrics are harder to sew since they slip around more under your sewing machine foot. Additionally, consider your own body. Most fashion experts believe that if your curves have some lumps or bumps, a matte-finish fabric will be more flattering.
When it comes to lining fabrics, be sure to choose one that will feel good next to your skin and that has the same or very similar characteristics as your swimsuit fabric ? especially stretch. You can?t line a four-way stretch suit with a two-way stretch lining! Swimwear lining fabrics come in a variety of neutral colors and a variety of thicknesses. The thicker the fabric, the more opacity it will provide. Power mesh also makes a good figure-hugging lining. And if your swimsuit fabric isn?t too thick you can use it as a lining fabric, too. Just be sure to double the material yardage.
Finally, if you?ve never made a swimsuit before, you may wish to check out some youtube videos on how it?s done. Two particularly good ones can be found here and here. 
Popular Savings Offers