When you buy something using the retail links in our posts, we may earn a small commission. Catalogs.com does not accept money for editorial reviews. Read more about our policy
here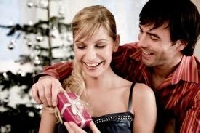 Knowing what to buy your girlfriend can keep you out of the dog house
Knowing what to buy your girlfriend is often a tricky proposition. You don't want to buy the wrong present, and you want to make it look like you tried too hard to choose that perfect gift. Whether the gift is for a holiday, a special occasion or just because, it should be original, thoughtful and full of meaning.
Jewelry
You honestly can't go wrong with jewelry. With so many beautiful pieces of jewelry, your significant other is sure to find something she likes. Fortunately, jewelry can adorn a variety of different body parts, which means you have plenty of pieces to choose from.
Rings don't have to be super serious; you can buy her one just because it is gorgeous. The piece doesn't have to have a big meaning – or commitment – behind it. You can buy a ring just because you think it will look fabulous on her finger. Forget the thinking that just because you buy a woman a ring you have to marry or make promises to her. You can also buy it just because it reminds you of her.
Necklaces are the perfect accessory for just about any outfit. Whether you are looking for one necklace she can wear all of the time, or a fashionable statement piece, match one to her style and you will have made a winning purchase.~
Earrings are an accent piece that will make her look amazing. Find out if she prefers post or dangling earrings, then make your choice. If you don't want to ask her, simply pay attention to the type she wears. A cute pair of hoops goes with just about everything, or you can get a bit more daring and choose something unique. Either way, she'll appreciate the effort you put into making a selection.
Bracelets and watches are another gorgeous option. Her wrist will sparkle and shine when the right piece is hanging off of it. Standard bangles are ideal for everyday wear, or you could up the ante with a bold cuff bracelet. Such a piece is sure to attract attention and will likely leave her feeling even more special than she already is. 
Something Sentimental
Skipping the material items and going for something that has meaning may be exactly what your gal is looking for. Believe it or not, sometimes, the more simple the gift is, the more she'll love it. For example, giving her a picture of the two of you in a gorgeous frame can bring back memories of a special time the two of you shared. Choose a snapshot from your first date, your anniversary or any meaningful time. She will likely appreciate the effort and thought you put into the gift.
You can also choose to create a collage of the two of you. Select special photos from your time together and insert them into a frame. She is sure to love all the time you put into creating this original gift. Additionally, this kind of present is cost-effective, which is a bonus if you're on a budget.
Her Interests
Giving your special gal a gift that pertains to something she is interested in shows that you pay attention and that you put some thought into finding her that perfect present.
For example, if she's a baseball buff, buy her tickets to see her favorite team play. You could also go for concert tickets to an artist she admires. Gifts like these are always a hit because it shows you take an interest in what she is interested in.
Whisking her away on a romantic vacation is often popular, as well, particularly if she adores a certain location. Quiet time alone with just the two of you is likely something she'll love and appreciate.
What Not to Buy
Buying her the wrong present is almost worse than not buying anything at all. A simple mistake can cause her to interpret the gift in the wrong way and cause serious friction.
For example, never buy any type of exercise equipment, scale or diet material, unless she specifically asks for it. Giving her something of this nature will likely cause her to think you are unhappy with her body.
Although she may adore clothing and shoes, pass on these as gifts, as well. She probably won't like what you get her, and then may feel guilty about it and keep the present but never wear it. Additionally, buying the wrong size can cause a serious fight, as she may think you want her to be a certain size, or you think she's bigger than she actually is.
Knowing what to buy your girlfriend is something every significant other should know. Getting her the right items can show her your love and commitment, which can improve your relationship.
Resources:
Made Man: What to Buy Your Girlfriend