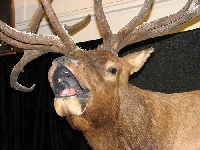 Find out when hunting seasons are in the USA and Canada with these resources.
Tis the season to be hunting, hummed the sportsman as he gleefully eyed the plethora of  hunting, fishing, camping and outdoor gear inside the sporting goods store. Once home, he donned his new transparent camouflage suit, and went immediately to consult the ancient elders (Grandpa and Uncle Bob) for the answer to his most pressing question, "When are hunting seasons?"
Collectively, the elders scratched their heads and answered, "My son, we do not know, but why don't you check the Web."
Regulations and seasons vary widely from state-to-state and across the border, so it is wise to consult local Fish and Game resources before planning a hunting trip.
When are Hunting Seasons in United States?
Hunting seasons in the United States vary from state to state. So do the laws which govern hunting, as each state makes its own rules and regulations. Within the states, the hunting seasons vary by type of game or fowl and by type of weapon (muzzle-loading firearm, bow and arrow, rifle, etc.) The opening and closing dates change from year to year; however, they do tend to occur in the same general time frame.
According to NC Wildlife.org, it is deer and bear hunting season during fall and winter in this state. Hunting season dates are different for each section of the state – Eastern, Western, Central or Northwestern North Carolina. As an example, here are the 2009-2010 dates for deer hunting in the Eastern section of North Carolina:
Eastern North Carolina Deer Season
Bow and Arrow

– September 12 to October 9
Muzzleloader – October 10 to October 16
Gun – October 17 to January 1
To discover the dates of the various hunting seasons, simply visit the official Wildlife Resources Commission website for your state. There, you may usually download a free PDF booklet with the hunting dates and regulations in your area. You may also pick up a copy at official sportsman's centers. See the references below for a list of links to each of the state agencies within the United States. Don't forget to purchase your hunting license as well – all of the states require you to have one. This can be accomplished at any officially licensed location in your state, including many sporting goods stores.
~
When are Hunting Seasons in Canada?
As in the United States, hunting seasons in Canada vary by province and territory and there are a variety of rules and regulations governing type of weapon, type of game or fowl, etc.
Trapping is a popular pastime in Canada and it provides income for many individuals. According to MyWildAlberta.com, there were 2,497 trappers who were licensed in Alberta in 2007-2008. Trapping has its own regulations and seasons separate from hunting. You should be able to find dates and regulations for hunting, fishing and trapping seasons on the wildlife agency websites. This information is provided free by the provinces and territories; however, you will have to pay a fee for your hunting, fishing and trapping licenses. See the references below for links to official wildlife agencies in each of the provinces and territories of Canada.
Preparing for Hunting Season
Along with your hunting season guides and licenses, you may want to purchase new equipment, outdoor gear, camping supplies and accessories. It's never too early to start planning for the next hunting season.
Just ask the ancient elders.
References:
State Links to US Wildlife Agencies
Links to official wildlife agencies in Canada