Where to wear a shawl
By Catalogs Editorial Staff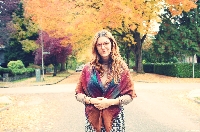 Take your shawl out of hiding and wear it with confidence!
Everyone has a shawl that they purchased with great optimism, thinking it would be such a promising addition to their wardrobe. Unfortunately, there are many cases where the shawl is collecting dust in the dark depths of a closet because people do not have the slightest clue where to wear a shawl.
If you are one of these people with a shawl in hiding, you will be relieved to know that a shawl can be worn in many places.
Before you continue reading about the Where to wear a shawl there is a special announcement we would like to share with you. Catalogs.com has negotiated special medicare rates for our vibrant community of seniors. If you are over the age of 60, you can head over to our Seniors Health Section which is full of information about medicare. All you need is your zip code and a few minutes of your time to potentially save 100s of dollars on your medicare bills.
Weddings

If you're attending a very formal wedding and wearing a gown, the last thing you want to do is dress it down – way down – with a cardigan. This is where the shawl comes in. Of course, there are more casual shawls, but but there are also more dressy shawls that will be to your advantage on occasions like weddings – any elegant silk shawl is sure to be a winner!
Funerals
Shawls are appropriate for one of the happiest times of  life as well as one of the saddest – funerals. It can be 85 degrees outside and you still get those depressing chills that only come around during life's most somber moments, so what do you wear? A denim jacket is too casual, and the blazer that you wear to work three times a week looks awkward with your dress. The dressy shawl in your closet is the perfect solution.
~
Religious Institutions
Church, mosque, temple, you name it –  a shawl is fitting for any religious setting! If every time you attend church you opt for a cardigan because it is freezing inside, change it up with a shawl. It will flatter your nicest church attire, such as dresses, and it will even compliment your more casual church clothes, such as jeans and a polo. 
At Home
We've all been through that dilemma where we are having company over, but our warm, cozy pajamas are just too inviting to change out of. The solution is to throw on a shawl! Wear it over a pair of soft leggings and a loose thermal top and you'll feel just as relaxed as you were in those pajamas, only you'll look a lot more presentable for company!
Walks on the Beach
Shawls are perfect for those beach walks. They're especially good for beach walks where the temperature is in a constant state of transition – one minute it is overcast and chilly, and the next minute it is sunny and you're sweating. Let the the shawl cover your shoulders when it's cold, and let it sit around your elbows or tie it to your beach bag when it's warm. It's a lot more stylish than that drab, oversized hoodie you have laying around. 
The Holidays
That cute denim jacket you have isn't very forgiving after you've had helping upon helping of hors d'oeuvres at a holiday party. Since the holidays are a time of inevitable weight gain, don't fuss with clothes that you won't be able to breath in, such as fitted blazers and jackets. Instead, stay nice and toasty in a shawl. Now you can have dessert!
The Movies
No one wants to be (or be next to!) that person in the movie theater that is constantly fidgeting with a jacket by taking it on and off – it's really annoying and takes away from the movie. Wear a shawl! You can slide it on and off very easily without having to worry about moving your arms like a contortionist just to get them into the holes of your jacket. With that being said, you'll also reduce your risk of knocking someone's popcorn over!
An Airplane
Bringing a blanket on an airplane is perfectly acceptable, but why not go for the more stylish option of a shawl? Many shawls feel just like blankets, and the bonus is that you'll avoid the dirty looks from the uptight people across from you that are muttering, "Where does she think she is, her living room?"
Whenever you're in doubt about an outfit being complete, fashionable, and/or appropriate, go for a shawl. It's stylish, flattering, and can be worn at a range of places and occasions. Ditch your usual coverups and outerwear and let your shawl take the spotlight!
Popular Savings Offers