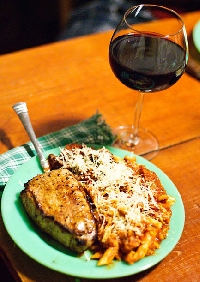 Knowing which wine with pasta turns a quick dinner into delicious comfort food
Pasta is among the most versatile foods to pair with wine. Since it absorbs the flavors of the sauce and seasonings, determining which wine with pasta will depend upon the other ingredients on the plate.
As a rule of thumb, reds go well with red sauces while whites complement the richness of cream sauces. The acidity in red wine boosts the flavor in tomato based sauces, while wines with low acidity will make a red sauce taste flat.
When deciding between red and white wine for your pasta dinner, stick to these classic pairings known to take a whole meal to a new level. An Italian red wine is usually a wonderful selection, and there are more wonderful combinations, too.
REDS
Many types of reds have an earthy quality to them that turn a quick Italian bite into a comfort meal. Since reds are heavy and often more complex than whites, they complement foods with bold flavors. Serve them at room temperature, and if it tastes too tart when you first open it, allow the glass to air for a few minutes to mellow it out.
Bordeaux ? Produced in France, Bordeaux is often a blend of different grapes, including Merlot and Cabernet Sauvignon. These blends go with both acidic poultry and lamb dishes.
Chianti ? Chianti wines have a satisfying tartness that cuts the acidity in tomato marina sauce without clashing.
Cabernet Sauvignon ? This is a good table wine because it satisfies many discerning pallets. The hearty body makes it a good fit for noodle dishes with roasted meats and vegetables.
Merlot ? Merlot is typically fuller than Chianti with a slight richness that brings out the sweet flavors in marina sauce.
Syrah ? A Syrah wine that tastes of slight plum and pepper can accompany any meat sauce, like spaghetti and meat balls or a simple penne topped with cheese.
Pinot Noir ? If you?re trying to figure out which wine with pasta that you plan to bake, Pinot Noir is a perfect flavor match for dishes like ziti and lasagna. Its body and smooth texture highlight the strong flavors in these dishes. Plus the high acidity in this wine complements tomato sauce.
WHITES
Whites should be served chilled as they?re lighter and more delicate than reds. Those with a dry finish, Chablis and Sauvignon Blancs, naturally go well with creamy sauces, poultry, fish and shellfish. Those with a fruit or sweet taste go best with rich desserts and spicy sauces.
Pinot Grigio ? Pinot Grigio is a popular wine because it has the light fruity flavors you crave in warm weather. This is ideal for a light seafood sauce, like linguine with white clam sauce, because it also has a light body. Pinot also goes well with a delicate garlic and olive oil sauce.
Rieslings ? Riesling wines offer both crisp fruity flavors and a dry finish so they won?t overpower a meal. Choose this for a sauce that?s on the spicy side. Riesling also go well with cheesy sauces and chicken dishes.
~
Chardonnay ? The Chardonnay grape varies greatly depending on where it?s grown. California Chardonnays tend to have bright, creamy notes that go perfectly with creamy Italian classics like chicken alfredo and tetrazzini. Crisp chardonnays with a hint of citrus help pronounce the flavors of pesto.
Savignon Blanc ? This wine will never disappoint, but it goes best with rich dishes like fettuccine alfredo with seasoned veggies and chicken. The grassy notes allow it to pair well with creamy penne with bacon loaded with asparagus, spinach and broccoli.
When wondering which wine with pasta, always look to the sauce for guidance first and then the protein you?re having. If the bottle you have doesn?t seem like it will go with the meal on your plate, take a chance. When the flavor in your glass does clash, save the wine for after dinner. These pairings are simply suggestions to maximize enjoyment.
References: