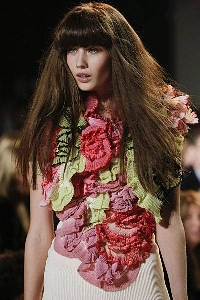 Wonder who writes fashion blogs following clothing trends? Follow these blogs!
One of the most popular ways to follow fashion is by reading or following blogs. This is actually the easiest and least expensive way to do so.
There is a wide range of fashion blogs out there waiting to be discovered. So who writes fashion blogs? Fashion bloggers range from retired fashion professionals who know all the inside scoop to youngsters, rookies and free-stylers that set today's trends. They go all out on their blogs by either writing about the hottest trends or photographing random people in big cities, all so YOU can look amazing too.
But who are these fashionista bloggers? Below are selected five favorites and most trustworthy fashion bloggers of them all.
1. Let's start with the famous 14 year old blogger Tavi Gevinson. Her "Style Rookie" blog has made her one of fashion's must-reads.  Her writing and fashion knowledge have even grew her to have her own magazine.  Her passion and understanding of such a complex and wide world like fashion as such a young age is what has surprised everybody in the fashion world.
~
2.  Fashion man Scott Schuman was a salesman in a high fashion brand store until he realized that fashion was out on the streets of his hometown New York. It wasn't millionaires wearing fashion, it was normal people setting the trends and being creative. His blog celebrates street fashion and how people are trendy and creative while reflecting their own personal style.   The Sartorialist is an all-picture blog.
3. Fashion has no language for French blogger Alix. This fashion graduate has her own clothing brand!  And while it is true that her "Cherry blossom girl" blog is written in French you can get the big idea of today's French style with her multiple, original and creative photos. You can also be a fan of her music taste.
4. Japanese, Dutch, Scottish descendent Rumi Neely is a 29 year model that with her bohemian, vintage free style and crazy, fun pictures has captured us all. Her blog, "FashionToast"  is truly inspiring not only to dress young and fresh but to get out there: have fun and live!  Her pictures express California's true everyday fashion trends and style.
5. But how about guys?  How do they follow fashion? Do they even know how to do that?  The answer is yes! But they go to wider and more extended blogs  that not only include lifestyle articles but sports, news, music and technology articles too.  It's the way of capturing a guy's attentions because let's be honest: guys in general are not going to follow, read or research for a fashion-only website! Blogs like The Urban Gentleman and FashionBeans are well made efforts by several talented writers and editors. More Men's Fashion Tips here.
These are the people behind fashion blogs, people who love, live and breath fashion — and that as you can see have always been surrounded by it. That is what makes them professionals in their field.
More fashion blogs: