Why to splurge on luxury linens
By Catalogs Editorial Staff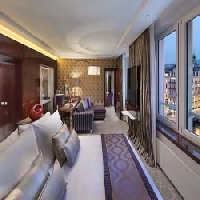 Wrap yourself in luxury tonight
Did you know experts estimate that one-third of your life is spent in bed? If researchers have this figure correct, then your bed should be a luxurious getaway where you can recharge for the next day. Sure, luxury linens are a bit pricier than lower quality options, but you?ll probably enjoy them more and get longer use out of them. Here are some things to keep in mind when you go to splurge on luxury linens.
Top of the line fabric
The best fabric for sheets is cotton, hands down. The long cotton fibers make sheets that are thin, strong, supple and wonderful. Focus on higher quality cotton to avoid pilling, which quickly makes lesser quality cotton feel coarse and rough. While a great set of cotton sheets can set you back a few hundred dollars, the years of luxury make them a worthwhile purchase. 
Before you continue reading about the Why to splurge on luxury linens there is a special announcement we would like to share with you. Catalogs.com has negotiated special medicare rates for our vibrant community of seniors. If you are over the age of 60, you can head over to our Seniors Health Section which is full of information about medicare. All you need is your zip code and a few minutes of your time to potentially save 100s of dollars on your medicare bills.
There are a few sources to keep in mind for great quality, Egypt, India, and the United States of America. Egyptian cotton is widely regarded as the highest quality. Indian cotton is gaining in popularity with a similar high quality. From the United States, ?Supima? cotton earned its name from the superior cotton of the Pima Arizona and has a soft luxurious feel that rivals the best throughout the world. If you choose a product from any of these sources, you are sure to enjoy the best the world has to offer. 
~
Crisp or fluffy
The choice for fabric finish depends on your personal preference. Percale woven sheets made of good quality cotton are crisp and snappy. They wash well and are less prone to wrinkling than their linen counterparts. Linen sheets are fantastic, especially if you live in a hot climate, but they do wrinkle. Unless you like the wrinkled look, expect to spend some time ironing to restore the nice and crisp appearance.
If, on the other hand, you want a sheet that is fluffy and feels like a great big hug, go for flannel. These sheets are the opposite of linen, since they will keep you incredibly warm on those cold winter nights. Use sheets with a thread count of at least 400 for the softest possible feel against your skin. 
Other bedding
Fabric choice is just as important for the other items that make for a splurge-worthy bed. Comforters, blankets and duvets all last longer and work better when made of quality fabrics. Speaking of blankets, don?t forget about throws to place on your bed ? perfect for a quick nap. Cashmere is wonderful ? incredibly soft and warm. When layered with sheets it can get too warm. But as a throw blanket, it?s a perfect choice. An accent pillow or two in cashmere is also nice. 
While we?re on the subject of pillows, get the best ones you can afford and encase them in linens that match your sheet set. For an opulent look, add more pillows to your bed. Have at least four of the full-sized sleeping pillows and layer with some smaller pillows in a fabric and pattern that coordinate with your overall design.
When you?re trying to decide between a comforter and duvet, remember that duvets tend to last longer than comforters because they have covers. If you happen to be a person that likes to switch up the look of their room often, go for the duvet. That way all you have to do is switch out covers, no trying to store bulky bedding. Comforters, on the other hand, are a simple solution and are usually printed or textured for a specific look. Either one can be filled with down or down alternatives and offer a warm place to relax. 
Ultimately, when you?re creating the luxury bedroom of your dreams, shop smartly. Once you?ve determined the kind of linens you want to splurge on, do some homework. Search online and in-store options for the best price and read the reviews. All this information will help make your decision easier!
Popular Savings Offers