Catalogs.com Departments

News & Articles

Hand Held Microphone - Same Day Music
A hand held microphone for speaking or singing
Make sure the people in the last row can hear your every word with a hand held microphone.


Quality sound and performance - Used by performers worldwide, the hand held mics you'll find here are top notch. Whether you're singing or speaking, every word that comes through your hand held microphone will be crystal clear.



Indoors or outdoors - Get studio clarity no matter where you are.... read more


This catalog is currently out of stock.


Please search through our categories for another catalog.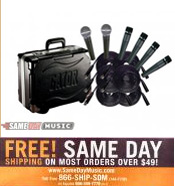 More About Hand Held Microphone - Same Day Music:
Other great Same Day Music departments:
Breathy sounds are kept to a minimum with built-in filters. Feedback rejection won't be a problem with these superior mics.


The ultimate in performance - When you give it your all, you don't want distortion to ruin your voice. You want a hand held microphone that can stand up to rough handling while delivering crystal clear sounds. Get all that and more from this great selection of dynamic mics.
You can sing at karaoke night, in a loud bar or speak in front of a quiet crowd. Use a hand held microphone from Same Day Music to provide excellent sound quality, ensuring you're heard everywhere.