Catalogs.com Departments

News & Articles

Professional DJ Software - Same Day Music
Professional DJ software for DJs who love to rock
Get all of your professional DJ software in one place. Mix it or scratch it -- you'll be the DJ to beat.


Audio and video files to master - Mix your files with ease with professional DJ software. Manipulate audio and video files, showcasing your creativity and talent. Use automatic beat-mixing to mix up to eight songs on the MixMeister DJ studio software.... read more


This catalog is currently out of stock.


Please search through our categories for another catalog.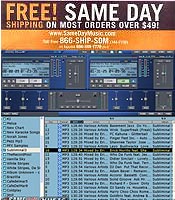 More About Professional DJ Software - Same Day Music :
Other great Same Day Music departments:
Be the mix master - Instead of turntables, mix music on your Windows or Mac system. Enter a whole new level by adding sound effects, creative effects and more to your music. Be the undisputed mix master DJ and own the party!
Professional DJ software for the pro - If being a DJ is not only a job, but an art, you'll appreciate the video and studio software designed to make your task easier. Enjoy the latest technology in mixing beats.
Same Day Music helps DJs rock the house with professional DJ software. Mix, blend and scratch records to perfection, getting the crowds on their feet and rocking to your beat.