Catalogs.com Departments

News & Articles

Wooden Storage Chest - Classic Hostess
A wooden storage chest will store and protect precious flatware
Store your flatware and silverware sets in a wooden storage chest to keep them protected and safe.


A variety of chests and caddies - Choose a wooden storage chest in cherry wood, leatherette, mahogany, oak or walnut. Small chests are ideal for smaller sets, while deluxe models hold hundreds of pieces.



Elegant touches make storage chests cherished items - Engraveable brass name plates, tarnish-preventive interiors, brass-finished handles and handcrafted finishes make these chests beautiful houseware items that you'll lovingly keep and pass on.... read more


This catalog is currently out of stock.


Please search through our categories for another catalog.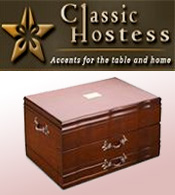 More About Wooden Storage Chest - Classic Hostess:
Other great Classic Hostess - DYNALOG ONLY departments:
A wooden storage chest makes a great gift to the new bride or couple moving into a new home.


Choose the style just right for you - Chests come in different styles, including Provincial, natural and modern. Select the chest that most matches your home's decor for a harmonious accessory that adds to the surrounding beauty.
A wooden storage chest from Classic Hostess is a perfect gift...for yourself or for someone you care about.