Catalogs.com Departments

News & Articles

Appointment Schedule Books - Day Runner
Appointment schedule books help you plan your days
Using appointment schedule books to keep up with your busy life is a smart thing to do! These daily, weekly, monthly or school year planners are great for recording every important date or event that you don't want to miss. Perfect for busy executives, students, moms and teachers, appointment schedule books can help anyone organize their life.


Do you need appointment schedule books? - Are your days packed full of activities, assignments or work? If so, you can use these appointment books to help you stay on schedule so that you never miss an important date, assignment, trip or special occasion.... read more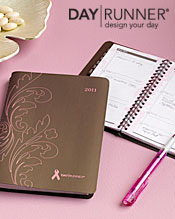 More About Appointment Schedule Books - Day Runner:
Other great Day Runner ® departments:
These scheduling books are good for work or for personal use. You can even have more than one -- one for the job and one for home!


Pick the format you need - How do you need to plan your life? Is each day full of meetings, reports, assignments, games, practices and more? If so, a daily planner is perfect for you. Record every little detail for each day so that you never miss a beat. For busy students, a school year planner is a great way to keep up with class assignments, homework, reports, projects and more. These unique planners start at the beginning of the traditional school year for students and teachers alike.
Need more flexibility? - If you require more flexibility in planning your life, undated planners will fill that need. You won't have to stick to certain months or days. You fill in the dates you want. If your schedule is jam packed for three months straight and then full of relaxation for the rest of the year, undated appointment schedule books give you ultimate flexibility in planning.
Day Runner is committed to meeting the needs of busy people everywhere, whether they're working in a corporate office, in the classroom or at home!