Catalogs.com Departments

News & Articles

Daily Planner Notebook - AT-A-GLANCE
A daily planner notebook is a perfect scheduling tool
Use a daily planner notebook for personal or business needs if you like meticulous detailing of your day's activities. The unique format of these AT-A-GLANCE planners are perfect for meeting the needs of your busy life! It doesn't matter who you are or what your days are full of. Now you can enjoy great organizing yourself with the help of these useful accessories that aren't just for office workers.... read more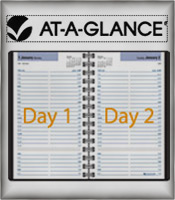 More About Daily Planner Notebook - AT-A-GLANCE:
Other great AT-A-GLANCE ® departments:
They're for anyone who can use more organization in his or her life.


A daily planner notebook in all sizes - If you only need a pocket size daily planner, then you can choose that. Or if you need a large planner to record many different items, you can choose that, too. Daily planners range in size from pocket, small, medium and large so whether you want to note a small number of activities or your schedule is packed, you'll find just the size planner for you! This great range of sizing options means that you can find the planner you need to fit your unique lifestyle. If one size suits you this year and you need something different next year, you'll find the size you want anytime.



Organization for various needs - A daily planner notebook is a great way to stay organized. Find a four-person group appointment book, daily business diary, professional daily appointment book, recycled daily reminders, executive traveler's planner, academic appointment books, undated daily reminders, loose-leaf refillable reminders and much more! You can use these as personal accessories or keep an entire group on track quickly and easily. Now there's no more excuses for forgetting those important dates and events!


With so many options to choose from in a daily planner notebook, the most detailed people can keep track of all their daily activities, from personal to work-related. For one or for groups, these unique planners meet the needs of busy professionals, students, teachers, families and more. Ready to get organized and take control of your busy life? Then get one today!