Catalogs.com Departments

News & Articles

Day Planner Accessories - Day Runner
Day planner accessories help you organize your planner
Make the most of your daily planner with a variety of day planner accessories that add even more organization and function to this useful accessory. For personal or business use, a daily planner can help you plan each day. Now you can use day planner accessories for your individual needs.


Day planner accessories for various needs - Are you looking for additional storage? Or would you like a handy calculator that's easy to use? Day Runner provides accessories like zip pouches, rulers, page markers, storage pockets, hole punches and much more! Your day planner not only records important events, but can also hold useful little items so that you don't have to carry extra bags or cases.... read more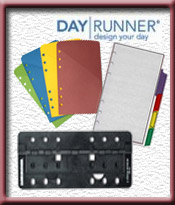 More About Day Planner Accessories - Day Runner:
Other great Day Runner ® departments:
Keep important cards close at hand - Business cards, credit cards and more can be stored in useful business card holders. If you need to look up a contact quickly, find their card in your day planner. Need to pick up the tab on a business lunch? Your credit card will be close at hand. Day planner accessories like these extra storage spaces are incredibly useful for the busy executive who wants to keep everything in one handy, convenient place.
Streamlined and easy - You don't want to tote a day planner, briefcase, tote bag or messenger bag all at once! Streamline your needs with accessories like note pads, things to do pages and telephone address pages. Instead of carrying around two or three different organizational tools, now you only have to carry a day planner, which holds all of your essentials in one neat and tidy place.
Your life is busy enough without having to check that you have everything you need every single day. Store it all in one area and leave your worries behind! Unique accessories fit into your day planner and your life with ease.