Desk Calendar Planner - AT-A-GLANCE
A desk calendar planner is a great way to stay organized
Make note of important upcoming dates at your office desk or home office desk with a desk calendar planner that's easy and convenient to use. You can schedule events months in advance with a variety of desk calendars that fit your lifestyle. You'll never have to worry about missing important dates, events, birthdays, occasions, anniversaries, games or any other special day with these helpful accessories.... read more


This catalog is currently out of stock.


Please search through our categories for another catalog.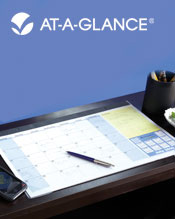 More About Desk Calendar Planner - AT-A-GLANCE:
Other great AT-A-GLANCE ® departments:
A desk calendar planner meets many needs - Desk pads come in so many varieties, you're sure to find the perfect one for you. If you work out of your home office or a corporate building, there's a desk planner for you. Choose from compact monthly academic desk pads, undated desk pads, collegiate desk pads, executive monthly options, motivational choices, floral versions and much more! With so many stylish options, you're sure to find just the one you want and need. They also make great gifts for anyone in your life who appreciates the organization these items provide. Perfect for gift giving occasions or anytime you want to give a unique and personal gift that will be appreciated and used.



Room to write and record - You'll have more than enough room to take notes and fill in details with a desk calendar planner from AT-A-GLANCE. Don't miss those birthdays, anniversaries, exams, meetings, trips or any other important occasion! Recycled options are plentiful for busy people who are also environmentally aware. With the great selection and variety you'll find here, now you'll enjoy keeping tabs on your busy schedule.


A desk calendar planner is a great organizing choice for families, executives, students, jet setters or anyone who likes knowing what's in store for their busy lives! When your day is organized, your entire life feels organized, so never feel out of control or worry that you forgot something again.