Wall Size Calendar - AT-A-GLANCE
A wall size calendar reminds you of important dates with one look
A stylish wall size calendar meets the needs of busy people who need to stay organized. With one quick glance, you can see what appointments, birthdays, meetings, games and other important events are coming up. These calendars are easy to write on and use for every day, so never worry about missing that crucial occasion ever again.


A wall size calendar for every day - Paper wall calendars are simple ways to keep track of various occasions throughout the year.... read more


This catalog is currently out of stock.


Please search through our categories for another catalog.


- or -

Shop for wall size calendar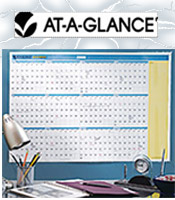 More About Wall Size Calendar - AT-A-GLANCE:
Other great AT-A-GLANCE ® departments:
You'll find many different varieties of wall calendars, including a monthly academic calendar, monthly business wall board calendar and three month reference calendars. For the environmentally conscious, you can choose recycled options as well. There are truly options for everyone, from corporate types to domestic managers. Find just the wall calendar you need to simplify your life and remind you of every important date you need to remember all year long.


Flexibility and options for all - For more flexibility, an erasable wall size calendar gives you many options. You won't be tied down by dates with an undated wall planner. If your schedule is subject to frequent date changes or possible cancellations, erasable calendars are a great way to meet these challenges. Choose from vertical, horizontal, scenic, yearly or monthly options. With so many choices, it's easy for anyone to find what he or she needs to keep track of a busy schedule, whether for work, for family or for personal obligations that you need to remember.
AT-A-GLANCE helps you stay on track with a wall size calendar perfect for your unique needs and schedule, whether you're a busy executive, student or active family. Write it down and it'll be there for whatever you need to remember, whether it's just for you or a whole family reminder!