Catalogs.com Departments

News & Articles

Wilderness Survival Tools - Herrington Catalog
Wilderness survival tools are great for people who love the outdoors
Campers, hikers and anyone who loves spending time outdoors will find tons of useful wilderness survival tools at Herrington.


Outdoorsy types will appreciate the variety of wilderness survival tools, which include waterproof gear boxes, multi-use Swiss Army knives, roomy backpacks, LED lamps and much more. Whether you're camping or rafting down river, you'll have everything you need to stay comfortable and safe.... read more


This catalog is currently out of stock.


Please search through our categories for another catalog.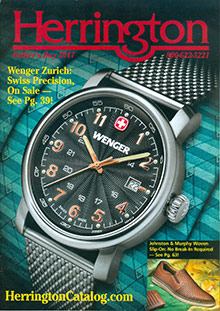 More About Wilderness Survival Tools - Herrington Catalog:
Other great Herrington Catalog departments:
Not only are wilderness survival tools designed for leisure activities, they can save your life in an emergency. Stranded hikers can use self-powered crank radios to charge cell phones and call for help. A mini survival module contains a loud, piercing alarm that can be heard over a mile away and contains a compass to lead you back to civilization. A magnifier and flashlight are also on this incredibly handy gadget, something every camper shouldn't be without!
Plan your outdoor adventures with safety in mind and carry along wilderness survival tools that are useful whether you're getting food or looking for your way home.