1950's Theme Party - ShindigZ
A 1950's theme party is a great way to celebrate
Rock around the clock all night long with a 1950's theme party sure to thrill your guests, even if they're too young to remember sock hops and the birth of rock n' roll!


A 1950's theme party is a great way to have fun, calling to mind a more innocent time and place for all. Invite your guests to wear bobby socks, poodle skirts or leather jackets as a way to bring the 50's back in style.... read more


This catalog is currently out of stock.


Please search through our categories for another catalog.


- or -

Shop for 1950s theme party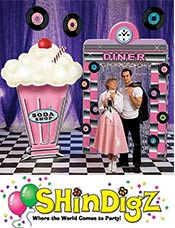 More About 1950's Theme Party - ShindigZ:
Other great ShindigZ by Stumps departments:
Then surround them with 50's decor like giant jukebox balloons, personalized banners and convertible car standees. They'll feel like they've been sent back in time to one of the coolest decades ever!


Party favors like soda float candles, plush dice and fabulous fifties packs only add to the 1950's theme party fun. Delight your guests with everything fifties, from drive-in kits to festive party glassware. Everyone is sure to have a rocking good time surrounded by all your 50's decor.
If retro fun is the name of the game, then let ShindigZ provide all the 1950's theme party supplies and decorations you'll need to have them twisting the night away!