Catalogs.com Departments

News & Articles

Cool Address Book - Day Runner
A cool address book is a great way to keep your contacts
If telephone address books never went out of style with you, a cool address book is a wonderful way to store all of your important contacts, from friends, family and business associates. You can choose the style you want, from traditional and professional designs to designs that reflect a more personal taste.


A cool address book is expressive - Electronic devices that store contact information can all look the same.... read more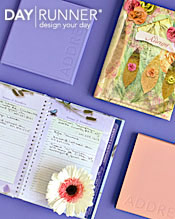 More About Cool Address Book - Day Runner:
Other great Day Runner ® departments:
But a cool address book expresses more of your personality! You have a great selection of decorative telephone address books that will look good in your home, but can also add some flair to your office desk. If blending in is not an option, these beautifully detailed address books are what you're looking for.


For personal or professional use - Keep up with personal contacts, such as family, friends, classmates and colleagues. Or keep a separate address book for business associates. Record all of the important information you need, including home phone numbers, mobile phone numbers, fax numbers, business addresses, home addresses, e-mail addresses and more.
Choose your style - Do you prefer a standard look, or are you looking for a cool address book that's much more expressive? Whatever your needs, Day Runner has an address book for you. You'll love the many options you have to choose from, from casebound, pocket size, Thomas Kinkade artwork, deluxe models and more. These unique address books also make great gift ideas for anyone who loves traditional stationery.
Looking for a way to record contact information that doesn't rely on batteries? Try telephone address books for an elegant and classic way to always stay connected. You'll love them for home, for brightening up a corporate office or for giving as gifts. They're the perfect, traditional way to keep up with all of those important people in your life.