Catalogs.com Departments

News & Articles

Dance Decoration Ideas - Anderson's Events
Dance decoration ideas turn any dance into a huge success
You'll be able to turn any school gym into an elegant, exciting locale with dance decoration ideas that include everything you need to make a homecoming, prom or school dance a huge success!


Anderson's Events knows dance decoration ideas. You'll find a huge variety of supplies for school parties and dances, including murals, colorful balloons, fun confetti, table skirts, holographic and foil moons and stars, centerpieces and so much more! No matter your dance theme, there are a ton of decorating accessories that will add to your decor.... read more


This catalog is currently out of stock.


Please search through our categories for another catalog.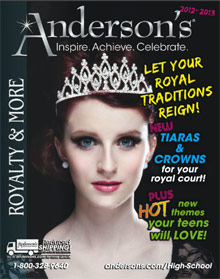 More About Dance Decoration Ideas - Anderson's Events:
Other great Anderson's Events departments:
If you're looking for prom or homecoming ideas, then look no further. Murals featuring Hawaiian sunsets, ballroom dancers, city nights or Hollywood scenes will give you just a few themes. Dance decoration ideas aren't complete without all the little details that set the room apart, like curtains, garlands, gossamer, netting, background paper, columns, banners, just to name a few, but there are many more!
Create a memorable night for party goers with cool dance decoration ideas and turn any location into the locale of your dreams.