Decorative Address Books - AT-A-GLANCE
Decorative address books add a lovely touch
You want your personal accessories to display your unique personality and decorative address books can help you do that each time you pull them out.


Anyone can have a plain address book, but why go for ordinary when you can own something beautiful and special? Decorative address books from AT-A-GLANCE come in one-of-a-kind designs featuring artwork from such well-known artists as Thomas Kinkade, Cheri Blum or Albert Swayhoover.... read more


This catalog is currently out of stock.


Please search through our categories for another catalog.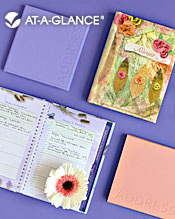 More About Decorative Address Books - AT-A-GLANCE:
Other great AT-A-GLANCE ® departments:
Your address book can bear striking images that are serene, peaceful and graceful.


From elegant designs to whimsical artwork, decorative address books are perfect for reflecting how you view the world. Instead of a monochrome book that can be confused with anybody's, choose one that stands out and is distinctly yours! Pretty and colorful flowers will bring a smile to your face anytime you look for a phone number or address. Or go for a quiet, vintage feel. The choice is all yours!
Decorative address books make a lovely gift idea for the stationary fan and are also a wonderful way to treat yourself.