Float Decorating Ideas - Anderson's Events
Float decorating ideas make it easy to design a great float
Your school float will be the best there is when you choose float decorating ideas from Anderson's Events.


Forget boring floats that have been done before. Now you can get fresh ideas along with the brightest and best accessories that will make your float stand out in any parade! Fringe and festooning add decorative flair and are available in bright colors in vinyl, metallic or tissue.... read more


This catalog is currently out of stock.


Please search through our categories for another catalog.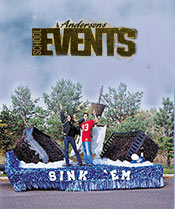 More About Float Decorating Ideas - Anderson's Events:
Other great Anderson's Events departments:
Other float decorating ideas include accessories like paddle balloons, styrofoam letters, floral sheeting, separates, tissue pomps and more!


Choose float kits already packaged to make your job easier. Float decorating ideas include such novel kits as The John, Tennis Shoe, Horse and Rider, Sunken Ship, The Wave and more. For those important upcoming games, outfit your floats with Flatten Your Opponent or Football kits, sure to intimidate the opposing team. With such a large selection to choose from, you can add your own special touch and make sure your float is unique!
Float decorating ideas make it easy to design a great float that will be the attention-getter in any parade!