Catalogs.com Departments

News & Articles

Note Cards and Stationery - Colorful Images
Note cards and stationery perfect for memos and notes
Practice the fine art of penmanship every time you give or send a brief note. Note cards and stationery keep the lines of communication open in fun, elegant and personal ways, allowing you to express yourself in any number of unique designs.


Why choose stock note cards when you can have personalized styles that reflect your personality? You'll find note cards and stationery featuring colorful designs and artwork that are sure to be noticed! Select cards with initials, flowers, pets, animals, birds, hearts, stripes, contemporary designs, whimsical styles and much more.... read more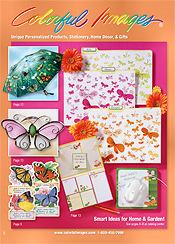 More About Note Cards and Stationery - Colorful Images:
Other great Colorful Images departments:
With so many choices, it'll be hard finding just one design you love.


The handwritten note doesn't have to go out of style! Keep the written word alive in an elegant way. The note cards and stationery you'll find at Colorful Images includes memo pads, note cubes, all occasion cards, business/calling cards, scrapbooking supplies, postcards and tons of personalized stationery and accessories.
Let your note cards and stationery reflect your sense of style, whether it's contemporary, classic or eclectic, every time you write a note to someone special.