Cool Dog Crates - In the Company of Dogs
Cool dog crates keep your pup safe and out of trouble
Instead of a plain old crate, try cool dog crates when you need to confine your pet. These unique and decorative designs will feel less like confinement and more like comfort.


In the Company of Dogs promotes close relationships between canine pals and the humans who love them. If you need to keep your pooch out of the way or use crates as training tools, cool dog crates are unique and adorable options that you and your pet will love.... read more



Shop for cool dog crates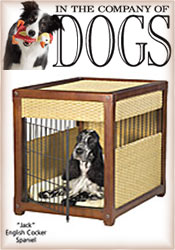 More About Cool Dog Crates - In the Company of Dogs:
Other great In The Company of Dogs departments:
Hardwood play pens are beautiful and functional, allowing your dog to see what's going on around him while keeping him in one spot.


Cool dog crates are good for house training, especially when they look this good. Choose from roomy dog dens or the beautiful lines of the Zen Haus or the modern eiCrate, with its "no corner" soft design. Perfect for resting or nesting, these crates show your pet how special she is to you.
The cool dog crates you'll find here are easy to use and safely confine your pet for those times it's necessary, but maintain the bond you both have for life.