Catalogs.com Departments

News & Articles

Leashes and Leads - Doctors Foster and Smith
Leashes and leads of all types for dogs and their people
For enjoyable walks or training your dog in an effective way, having leashes and leads is an important part of your dog-human relationship.


Sometimes, it's easy to pick out a leash; other times, you have to take your cues from your pet. Now you can choose leashes and leads to fit any dog and any situation. You'll find simple collars, harnesses and leashes here, but you also have the option to select gentle leader headcollars for dogs that need more control without choking your pet.... read more


This catalog is currently out of stock.


Please search through our categories for another catalog.


- or -

Shop for leashes and leads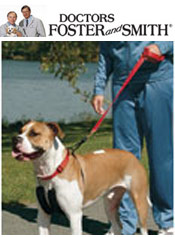 More About Leashes and Leads - Doctors Foster and Smith:
Other great Doctors Foster and Smith departments:
Other choices include double dog couplers, comfort grip leads that are easy on your hands and easy walk harnesses.


Make training so much easier with these innovative leashes and leads. You don't have to resort to choke chains and possible harm to your canine pal when you use padded dog collars and training collars designed with your pet's comfort in mind. Training sessions will be a snap and fun for the both of you with the varied options you'll find right here. Plus, for safety, nothing beats a sturdy and secure leash or lead, something every dog lover needs!
Doctors Foster and Smith provide a great selection of leashes and leads that any dog and dog owner are sure to love.