Senior Pet Supplies - In the Company of Dogs
Senior pet supplies make an older dog's life easier
When your faithful companion gets older, you want to make his life comfortable. Senior pet supplies are a great way to ease stiff joints and provide the comforting support your canine pal needs.


After a lifetime of service and companionship, dogs deserve an easy "retirement." Give your older dog what she needs to get around comfortably, including pet steps and dog ramps so that she doesn't have to jump.... read more



Shop for senior pet supplies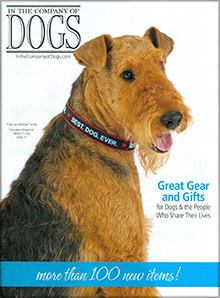 More About Senior Pet Supplies - In the Company of Dogs:
Other great In The Company of Dogs departments:
Or use leash harnesses that fit around her body and don't pull at the neck. Other senior pet supplies include cool therapeutic pads, orthopedic beds and old soul toys, for the dog who still thinks she's a pup.


If your older dog suffers from incontinence, use diapers, protective pants or waterproof orthopedic beds to keep your home neat. For walking in cool weather, doggie boots will protect those older paws from feeling the chill. Senior pet supplies are designed with your dog's comfort in mind so that his later years can be spent in a relaxing, comfortable environment.
In the Company of Dogs carries a variety of senior pet supplies that anyone with an older dog will appreciate for keeping their furry pal in comfort for all her faithful years of friendship.