Catalogs.com Departments

News & Articles

Bathroom Safety Bars - Youcan Toocan
Bathroom safety bars keep you secure in the tub or shower
Don't worry about slipping and possibly injuring yourself while climbing in and out of slippery tubs and showers with bathroom safety bars. Securely hold onto these grab bars for safety and security.


Perfect for the bathtub or shower - To prevent the painful and debilitating injury that can occur from a fall, install bathroom safety bars around your tub, shower or toilet.... read more


This catalog is currently out of stock.


Please search through our categories for another catalog.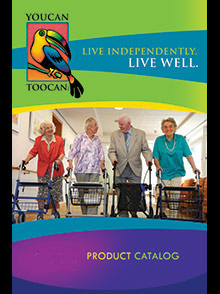 More About Bathroom Safety Bars - Youcan Toocan:
Other great Youcan Toocan departments:
Now you can grab these bars when you rise, sit or lower yourself. You'll stay steady and secure.


Different finishes to match your bathroom - Choose bathroom safety bars in white, brass or silver, depending on your room's decor. Handsome finishes make these attractive accessories blend right into your bathroom.
Easy to install - Suction grab bars don't require tools and are easily removed, perfect for anyone who doesn't need a permanent fixture. Other safety rails clamp onto tub sides. You can always opt for screw-in mounted bars if you want them to be permanent.
Youcan Toocan provides aids to mobility and security with bathroom safety bars that will help prevent injury.