Catalogs.com Departments

News & Articles

Management of Medication - ELDERLUXE
Management of medication products keep your meds organized
Don't wonder whether or not you're due for your meds. Instead, use products for management of medication that are attractive and highly useful if you have lots of prescriptions to manage.


Keep your meds organized - If you have several medications you need to take each day, use these handy dispensaries and pillboxes to organize everything.... read more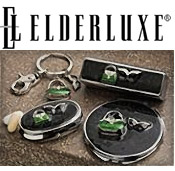 More About Management of Medication - ELDERLUXE:
Other great ELDERLUXE departments:
Just place your pills in a 7-day reminder pill case or dispensary and you can keep track of your meds for a full week.


Attractive cases and accessories - Maybe it won't make taking your prescriptions easier, but these attractive products for management of medication may make it more enjoyable. The silver collection is elegant and chic, and the fun collection is lively and bright.
Management of medication doesn't need to be difficult - Whether you keep your meds at home or you take them along when you travel, handsome pill cases, talking pill bottles and daily reminder pillboxes do the work of remembering for you. Stay healthy and safe with these useful gadgets.
ELDERLUXE provides management of medication products that are designed to make your life easier and simpler.