Catalogs.com Departments

News & Articles

Monastery Gifts – Monastery Greetings
Monastery gifts are holy presents from the heart
Bring back religiously inspired gifts from the world's most beloved monasteries. Whether you are looking for scrumptious chocolate truffles and fruitcakes, spiritual books or gorgeous artwork depicting monastic life, there are a variety of monastery gifts that you will find meaningful.


Heavenly scents - Surround the room with the lovely aroma of Mount Athos Incense.... read more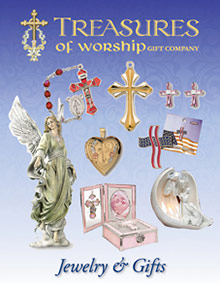 More About Monastery Gifts – Monastery Greetings:
Other great Treasures of Worship departments:
A great monastery gift, this incense has been produced for centuries on Mount Athos. Made from a blend of Greek Byzantine incense, the Mount Athos Incense comes in a variety of fragrances including Mystical Rose, Lemon and Gardenia.


Clean and fresh - Pamper your skin with fragrant soaps, luscious lotions and delightful colognes. There are a variety of soaps and products for body care that make great monastery gifts. Made from all natural ingredients including goat's milk, lavender essences, honey, and avocado, olive and grapeseed oils, these products keep you clean, fresh and oh so soft.
Saintly words - Complete your library with books about various religious icons, subject matters and sacred places. Monastery gifts such as books allow you to learn more about the life of Mother Benedict Duss or the world of Catholic monastic life as viewed through the lens of photographers.
Get an enlightening glance of religious life with monastery gifts.