Catalogs.com Departments

News & Articles

BMX Bike Parts - Dan's Comp
BMX bike parts for the ultimate bike
Are you the ultimate BMX enthusiast? Then you need the best BMX bike parts to outfit your extreme racing bike to handle trails, hills and even the street.


For a huge selection of BMX bike parts, look no further than Dan's Comp, where you'll find everything you need, including axles, brakes, brake levers, chains, chainwheels, hubs, headsets, spokes, stems, bottom brackets, handlebars, bar ends, pedals, valve caps, seat posts, seats, rims and so much more! Why go anywhere else when you can find whatever you need right here.... read more


This catalog is currently out of stock.


Please search through our categories for another catalog.


- or -

Shop for bmx bike parts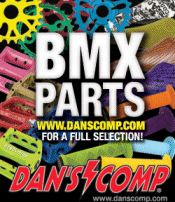 More About BMX Bike Parts - Dan's Comp:
Other great Dan's Comp departments:
If you want to add cool accessories, then choose from a variety of number plates, available in skull or lizard styles. You can also pick stock wheels or go for custom wheels, which are hand crafted and sure to give your bike the weight and strength it needs to win races. Create the best racing bike around with this awesome selection of BMX bike parts.
If you're serious about extreme bike racing, you need the right BMX bike parts to turn your racer into a real winning machine!