Catalogs.com Departments

News & Articles

Custom Skateboards - Acitve Ride Shop
Hit the streets with custom skateboards
From the wheels to cool deck designs, custom skateboards will give you a board that is a unique as you are. Browse a large selection of custom and pre-assembled skateboards that allow you to place your own personal touch on each and every piece of equipment.


Unique pro deck designs give you that razor sharp edge you need to get ahead. From grungy, street designs to bright, colorful graphics, you can choose from a wide selection of professionally designed skateboard decks.


... read more


This catalog is currently out of stock.


Please search through our categories for another catalog.


- or -

Shop for custom skateboards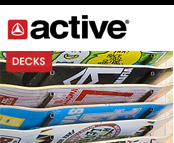 More About Custom Skateboards - Acitve Ride Shop:
Other great CCS Skateboards departments:
Custom skateboards can give you that extra edge you need. Whether you're a casual skateboarder or a fly, Tony Hawk wannabe, you're sure to find the perfect skateboard you need. This great selection offers high quality, affordable equipment such as griptape and risers to give your custom skateboard the distinctive touch I needs.
At Active Ride Shop, they know what skaters are looking for, which is why they offer the more seasoned skateboarder blank, unassembled skateboards that allow you to create your own designs and piece it together to suit your specific needs.
From the trucks to the risers, you can create your very own masterpiece on wheels. Browse the specialty skateboards shop for a wide variety of awesome custom skateboards today.