Catalogs.com Departments

News & Articles

Casual Fashion Clothes - Serengeti
Casual fashion clothes are a stylish choice for any woman's wardrobe
For easy style that looks great right out of the closet, casual fashion clothes are a must in any busy woman's wardrobe. You'll appreciate the go-to fashions from Serengeti that are easy to mix and match.


You want to look polished, but you want to be comfortable, too. Casual fashion clothes allow you to be both! With the stylish cuts and classic patterns on these shirts, hoodies, capri pants, jumpers, pant sets, short sets, tops, skirts and more, you'll look effortlessly chic.... read more



Shop for casual fashion clothes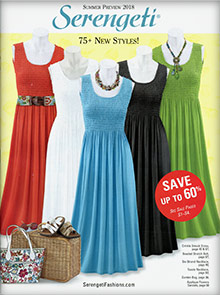 More About Casual Fashion Clothes - Serengeti:
Easy colors and vibrant designs make these clothes simple to coordinate while giving your ensemble the right amount of flair!


Plaid, floral prints and graphic patterns work alongside simple designs for the perfect touch in any outfit. Soft and comfortable casual fashion clothes will keep you cool no matter where you sport them, so get ready to hit the mall, vacation spot, beach or park in incredibly stylish attire. For all of your casual style needs, you'll find a great selection of tops, bottoms and sets right here!
Add a variety of casual fashion clothes to your wardrobe and you're ready to face any casual occasion in style.