Catalogs.com Departments

News & Articles

Knitting Needles and Yarn - Sunshine Discount Crafts
Create a masterpiece with knitting needles and yarn
Knitting needles and yarn from Sunshine Discount Crafts are the perfect gift for the knitter in your family! Whether they're just taking it up as a hobby or their friends and family depend on them for sweaters and scarves every year, you're certain to find high quality knitting needles and yarn for the knitter in your family!


If you're a knitter, you know how important it is to have high quality yarn and knitting needles. Make new masterpieces with awesome instructional booklets and knitting kits. From chic shaws to keepsake blankets, you're sure to find a cool new design that your loved ones will enjoy.


... read more


This catalog is currently out of stock.


Please search through our categories for another catalog.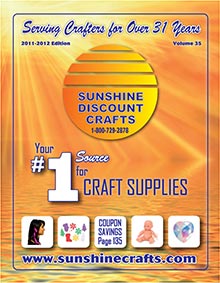 More About Knitting Needles and Yarn - Sunshine Discount Crafts:
Other great Sunshine Discount Crafts departments:
There's no better gift than one that comes from the heart. Creating a scarf or warm, cozy blanket with your own two hands is the best way to tell that special someone that you appreciate and care for them. Don't settle for boring, store bought throws, show your loved ones you truly care by creating wearable masterpieces that they'll cherish for years to come.
Knitting needles and yarn can help you create comfy works of art that are perfect for anyone in your family. Whether you're new to the knitting game or a veteran, you're sure to find the right tools for your talent. Keep your loved ones warm with hand knitted sweaters and scarves or knit a special blanket for yourself with knitting needles and yarn.