Catalogs.com Departments

News & Articles

Paint and Brushes - Sunshine Discount Crafts
Become an artist with quality paint and brushes
Whether you're an expert painter or are just learning how to take your first strokes, the proper paint and brushes can help cultivate your talents. Don't settle for low quality paints from random stores, browse a variety of high quality paint and brushes from Sunshine Discount Crafts today.


Do you aspire to become the next, great American artist? One thing that every artist needs are paint and brushes. From high quality one stroke brushes to flat economy brushes, you're sure to find everything you need to create your very own masterpiece. Painting is a wonderful way to relieve stress and express your creative side, but you need the proper tools to be a successful artist.


... read more


This catalog is currently out of stock.


Please search through our categories for another catalog.


- or -

Shop for paint and brushes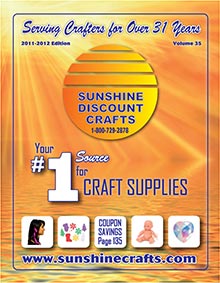 More About Paint and Brushes - Sunshine Discount Crafts:
Other great Sunshine Discount Crafts departments:
Keep your paint and brushes in a convenient caddy and place your paints on a professional and convenient paint palette. With the accessories, paint and brushes offered by the experts at Sunshine, you're sure to find all the tools you need to become the painter you've always wanted to become!
If you're an art teacher looking for reasonably priced and sturdy supplies for your art class, you can browse through a large collection of high quality, affordable paint and brushes. Whether you're looking for acrylic paints or brush storage, you're sure to find everything you need to keep your students inspired.