K Cups Coffee Maker – Green Mountain Coffee
The K cups coffee maker makes it easy to please everybody
They say you can't please everybody. With a K Cups® Coffee Maker, yes you can! Find the perfect K Cups Coffee Maker at Green Mountain Coffee – where the love of coffee is taken to another level. After all, everybody deserves a great cup of coffee- -- whether at home, in the office, or on the go. For the finest specialty coffees, including fair trade and organic coffees, plus an assortment of top-of-the-line coffee brewers like the K Cups Coffee Maker from Keurig, look no further than Green Mountain.


When it comes to choosing a K Cups Coffee Maker, there's no better choice than Keurig -- a leading manufacturer of single-cup brewing systems for the home and office, Keurig offers a patented-brewing technology that delivers water in the exact amount, pressure, and temperature to create a perfect cup of coffee, tea, or hot cocoa, every time.... read more


This catalog is currently out of stock.


Please search through our categories for another catalog.


- or -

Shop for K cups coffee maker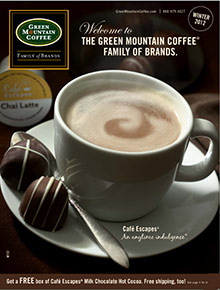 More About K Cups Coffee Maker – Green Mountain Coffee:
Other great Green Mountain Coffee® departments:
Multiple options in Keurig single-serve coffee makers -- get a great deal on a Keurig B30 Mini, B40, or B60 single-cup coffee maker, or upgrade to a sleek and modern Keurig Platinum B70 brewer or the Breville™ Keurig coffee maker that offers top-of-the-line single-cup brewing technology and a sleek chrome exterior.
The perfect caffeine fix…flavored to perfection -- why compromise on flavor, when you can get exactly what you want in single-serving K cup coffees, everything from the deliciously decadent chocolate glazed donut and cinnamon roll, to simply satisfying Green Mountain classics like french roast, breakfast blend, hazelnut, and french vanilla.
Going green never tasted so good -- for the finest coffees roasted to the peak of perfection, stock up on fair trade Green Mountain Coffee or Newman's Own® organic coffee -- available in bags or convenient K Cups -- sure to please the most discerning tastes.