Fair Trade Coffee Brands – Green Mountain Coffee
Sample all the best fair trade coffee brands
When it comes to coffee, going green has never tasted so good. Along with its signature line of fair trade coffee brands, Green Mountain Coffee offers fair trade and organic coffees, teas, and hot cocoa from Tully's Coffee, Newman's Own, and Caribou Coffee! If you're new to fair trade or organic coffee, you're in for a real treat, and if you're a loyal supporter of fair trade coffee brands, you've got more choices than you can imagine at Green Mountain Coffee.


Whether whole bean, ground, or individual K cup servings, find only the finest fair trade coffee brands -- like the Green Mountain Donut House Coffee Collection...yum! Don't worry, it may be decadent, but it's fair trade and organic in the Green Mountain tradition.... read more


This catalog is currently out of stock.


Please search through our categories for another catalog.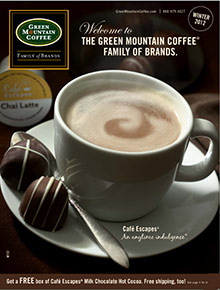 More About Fair Trade Coffee Brands – Green Mountain Coffee:
Other great Green Mountain Coffee® departments:
Discover your ultimate source for all things coffee -- along with all the best fair trade coffee brands, shop top-quality coffee brewers, coffee maker accessories, coffee cups and tumblers, coffee gift baskets, coffee samplers, and gourmet foods and sweets that make the perfect accompaniment to a great cup of coffee.
Whether at home or at work, single-serving coffee brewers make perfect sense -- Green Mountain Coffee is your singular source if you're looking for a single-serving coffee machine from Keurig -- the leader in single-cup brewers. Keurig's patented brewing technology delivers water in the exact amount, pressure, and temperature to create a perfect cup of coffee, tea, or hot cocoa, every time.
Looking for the perfect gift for that discerning coffee lover in your life? -- you can't miss with the Vermont Breakfast Crate, the Organic Breakfast Crate, the Better World Gift Basket, or a host of rich treats like Highland Sugarworks Maple Butter, Dillon's Peanut Brittle, King Arthur Flour Lava Cake Mix, Lake Champlain Chocolate Medallions, Mitzi's Maple Granola…and the list of coffee accompaniments goes on!