Accessories for Outdoor - Whatever Works
Accessories for outdoor spaces make inviting decks and patios
Turn your backyard into a unique and relaxing area with accessories for outdoor that are designed to bring home decor beauty outside!


When warm weather rolls around, you want to enjoy your home's outdoor spaces, so use decorative and functional accessories for outdoor to make your home's exterior as lovely as the interior. Choose metal dog planters, sculptural topiaries, stray cat planters, garden stakes, solar turtles, solar gnome garden figures, privacy trellises, straw planters, outdoor fireplaces and much more!



Besides bringing some beauty to the outside of your home, accessories for outdoor are also incredibly functional.... read more



Shop for accessories for outdoor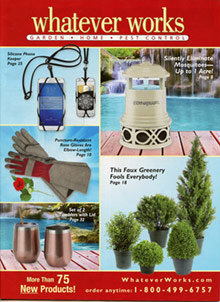 More About Accessories for Outdoor - Whatever Works:
Other great Whatever Works departments:
Glow in the dark stair guides are perfect for nighttime parties or gatherings. Other outdoor accessories designed to keep your yard beautiful include a rain gauge, stonewall border, down spout drain, turtle splash block and patio misting system.

Whatever Works has whatever you need to keep your home a perfectly inviting space, including accessories for outdoor that beautify decks, patios, gardens and yards!