Catalogs.com Departments

News & Articles

Outdoor American Flag - Carrot Top Industries
Show your pride with an outdoor American flag
Are you looking for a way to salute our troops and show your pride in the stars and stripes? Itís easy to show your pride with a high quality outdoor American flag from Carrot Top Industries. Offering the very best in quality craftsmanship, the flag specialists pay attention to every minute detail in every flag they produce.


The USA flag has been a symbol of freedom, tolerance and achievement for over 200 years. Display this timeless symbol on the front of your home or office to show the pride you have in your country and everything the flag stands for.


... read more


This catalog is currently out of stock.


Please search through our categories for another catalog.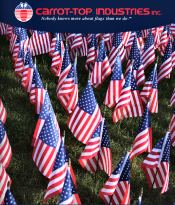 More About Outdoor American Flag - Carrot Top Industries:
Other great Carrot Top Industries departments:
With these flags, the stars and stripes will always weather the storm. Each flag is made to last through years of use with fray-resistant stitching and durable fibers. Whether youíre interested in polyester or nylon American flags, the wide selection of outdoor American flag sizes can provide the right flag for you. Each outdoor American flag is built to sustain high winds and harsh weather conditions.
Just because your large American flag is durable, doesnít mean it canít be beautiful! The flag specialists pay close attention to detail. Youíll find high quality stitching and beautifully embroidered stars on each and every flag that is created.