Catalogs.com Departments

News & Articles

Outdoor Protective Covers - Brookstone
Outdoor protective covers keep your patio furniture covered
Keep your garden and patio furniture in great shape for seasons to come with outdoor protective covers made to withstand the elements and changes in season.


When you invest in outdoor decor that makes it a pleasure to sit outside and enjoy your garden or backyard, make sure your furniture investment lasts for years. Outdoor protective covers work to ensure that sun, snow and rain don't fade or warp your outdoor furniture's beauty.... read more


This catalog is currently out of stock.


Please search through our categories for another catalog.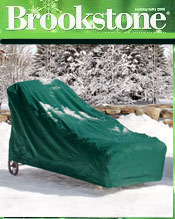 More About Outdoor Protective Covers - Brookstone:
Use in harsh seasons so that when warm weather comes, cushions, benches and wicker look as good as new!


Chairs, chaise lounges, lawn mowers, cushions, tables, bikes, grills, firepits and more benefit from the shielding that outdoor protective covers provide. Your furniture and yard necessities stay nice with easy to use covers that you can store when not needed. Not only for chairs and tables, these covers protect a variety of outdoor accessories.
Choose outdoor protective covers from Brookstone to fit all of your patio and garden needs, keeping your furniture and accessories attractive for years to come.